2021 Quintrex Hornet Takes Fishing to a Whole New Level
Published on: 17th Jun, 2021
As part of the new 2021 Quintrex lineup, Australia's ultimate fishing boat, the Hornet is getting a revamp.
Reducing from nine models to five, the new Hornet has been redesigned to deliver an all-inclusive product, adapting from both the previous Hornet model and the now discontinued Stealth Hornet.
The three Hornet models, 450, 481 and 500, will compliment the preexisting Hornet Trophy lineup with the 420 and 440, in order to continue delivering a fully comprehensive size variation across the range.
"Derived from market research and dealer feedback, the Hornet has been streamlined and recrafted to meet the needs of a wider range of fishermen, achieved by an array of design changes including an increased freeboard making it better suited to a greater variety of waterways, including lakes, estuaries and open water," Jorge Alejandre, New Product Development Manager said.
Together with a deeper layout comes more storage room and greater possibility for more optional extras or longer adventures that serve for camping onboard.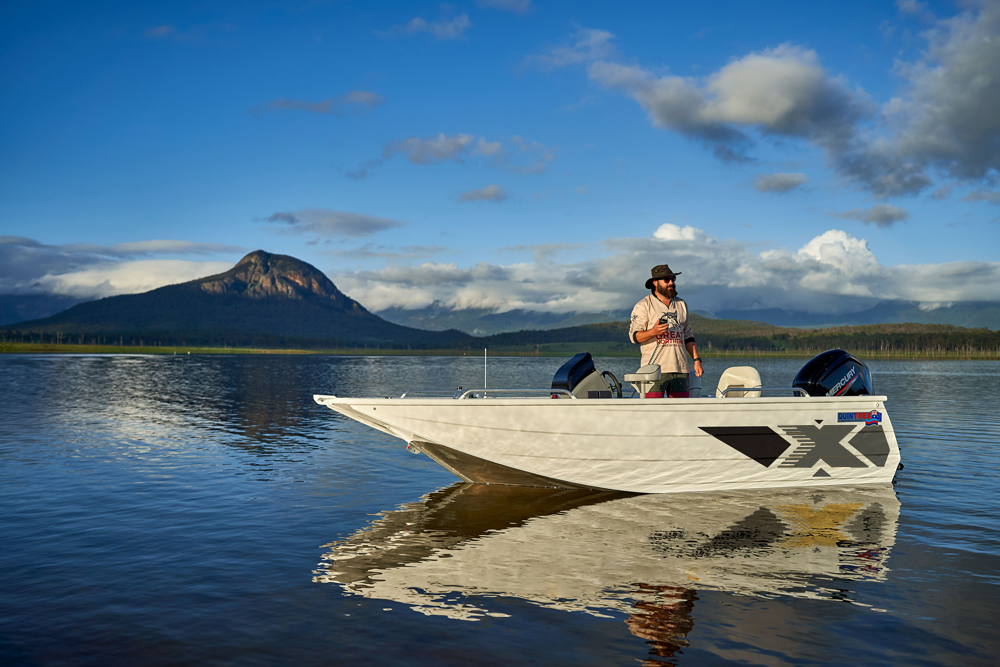 In line with an all-new Boat Bundle approach, aimed towards simplifying the boat buying process for those new into the market, customers will now be gifted the ease of choice with three bundle options available to choose from.
Not only easy, but also affordable, consumers can now opt for an entry level boat that only features the bare essentials with the Hornet, a range of Boat Bundles for ease of upgrading the vessel to suit a particular lifestyle or, go all out with the deluxe Hornet Pro which includes all premium features.
The Hornet Pro will incorporate standard features including a VHF Radio, Burley Bucket, lean seat, seat option upgrade and more.
"Each bundle has been crafted to meet the needs of our most frequent boat buyers, for example those looking for a budget-friendly boat simply to get out on the water, a premium vessel with all the frills, or something more pointed like a Comfort Bundle for families, a Fishing Bundle for avid fishos and a Captain's Bundle for the driving comfortability," Madeline Bishop, Marketing and Communications Manager said.
"Each option included in these packs have been carefully selected by our team, who are avid fishos themselves, to deliver the best on-water experience possible."
Options included in each Boat Bundle are as follows:
Comfort Bundle – lean seat, seat upgrade from Angler Sport to Bass Sport, and a sound system and speakers
Fishing Bundle – burley bucket kit, VHF radio, lean seat, LED cockpit lights and switches
Captain's Bundle – upgrade from mechanical to hydraulic tilt steering, upgraded steering wheel
With customers still able to option up with individual items, Quintrex will continue to deliver the same high level of customisation that the brand is renowned for.
The overall ride experience has further been ramped up with mechanical tilt steering standard across all Hornet models and hydraulic tilt steering across all Hornet Pro models.
As the new lineup hits the water, the entire Hornet range will don fresh stripes with the 2021 Quintrex design plus dual maxi brackets as standard across all base and Pro models and a modular bow aimed towards improving overall product quality.
The Hornet is crafted around the Apex Hull, which is heralded as the industry's most innovative design, delivering an unparalleled ride experience and stability at rest thanks to its cutting-edge concept.
"The 2021 lineup has been derived from over 75-years of industry excellence and aims to continue the strong Quintrex name within the market by enhancing our product and incorporating changes driven by customer feedback," Madeline said.