Accon: Pop-up LED Nav Lights enhance boat looks and safety
Published on: 24th Jan, 2022
Protruding deck hardware—even navigation lighting—creates a trip hazard and disrupts the clean, flowing lines of a boat's sheer. The Pop-Up® LED Bow Light from Accon Marine sits cleanly flush in its base until needed. When darkness falls, a touch of the button is all it takes to extend the lamp and the day's boating excitement.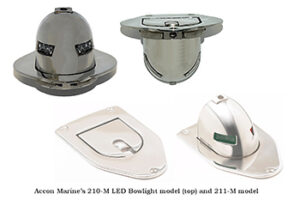 Manufactured from gleaming marine-grade 316 stainless steel for low maintenance, the Pop-Up LED Bow Light uses high-performance LEDs that won't need to be routinely checked and replaced like incandescent bulbs.
Drawing a mere 115mA, the light is US Coast Guard-approved for two nautical miles, NMMA type accepted and meets 72 Colregs requirements.
The Accon Pop-Up light is offered in two models. Version 210-M is available for through-bolt installation needing only a drill with an 89mm hole saw and three #10 stainless steel screws, or for stud mounting requiring 68mm of below-deck clearance. Style 211-M also stud-mounts and fits the same cut-out as Accon's 204-M incandescent light for easy upgrading.
In Australia, Accon products can be purchased through Fishpond.com.au.