Hubbell: GFCI Receptacles are simple safety solutions
Published on: 24th Jan, 2022
In a damp and corrosion-prone onboard environment, electrical devices can short circuit to ground, creating a potentially fatal shock hazard. Installing a Hubbell Marine 15A 125V AC GFCI receptacle is a simple way to help keep people safe. Offered in Standard, Weather-Resistant and Extra Heavy-Duty models plus a wide range of colors, it's easy to match the ideal GFCI device to the installation location.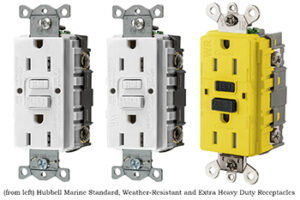 Hubbell GFCI receptacles feature the company's patented self-test technology. Continual automatic monitoring ensures proper and safe functionality.
When the device reaches an end-of-life condition, the outlet will deny power and provide an indication that it needs to be replaced.
Sized to fit any standard 63.5mm deep box, Hubbell GFCI receptacles have a feed-through feature. This provides protection not only at the outlet, but also all others located downstream on the same circuit.
The Standard Ground Fault Receptacle is designed for average use. Available in White, Ivory, Light Almond, Black, Brown and Gray to match any décor, it's ideal for protected internal locations and/or where the downstream feed may be exposed to salt spray or within an engine space.
Hubbell's Weather-Resistant Series meets NEC requirements for weather resistance. With the same available colours as the Standard version, it's UV- and corrosion-resistant for harsh and damp applications.
The Extra Heavy-Duty Receptacle has a high-impact and UV-stabilized housing. Internally, nickel-plated face contacts, mounting strap and terminals withstand the most demanding environments and applications. While not available in Light Almond, it comes in Hubbell's other colours as well as high-visibility Yellow.
In Australia, Hubbell products can be bought through TK Distributors and Element14 Distributors.