Island Gypsy 40
Published on: 12th Oct, 2021
Twice as nice
The Island Gypsy 40 two-cabin model strikes a chord with seasoned yachting couple, and dozens of experienced boaties, embracing the traditional lines and economical cruising of Island Gypsy.
After 50 years in the construction industry, seasoned offshore sailor, Clive and his wife, Gaile are looking forward to a retirement with plenty of time on the water.
"I've been in boats all my life," states Clive. "In PNG, the South Pacific, cruising, racing, then in Brisbane, enjoying Moreton Bay and the east coast. When I retired, I took some time to really consider what kind of boat we'll invest in for days and days of pleasant cruising."
Shopping around on the Gold Coast, Clive and Gaile paid a visit to Gold Coast City Marina, and were attracted to the clean lines of the Island Gypsy 40. They stepped aboard to find out more about the Australian-designed motor yacht and speak to the designer himself, Brett Flanagan.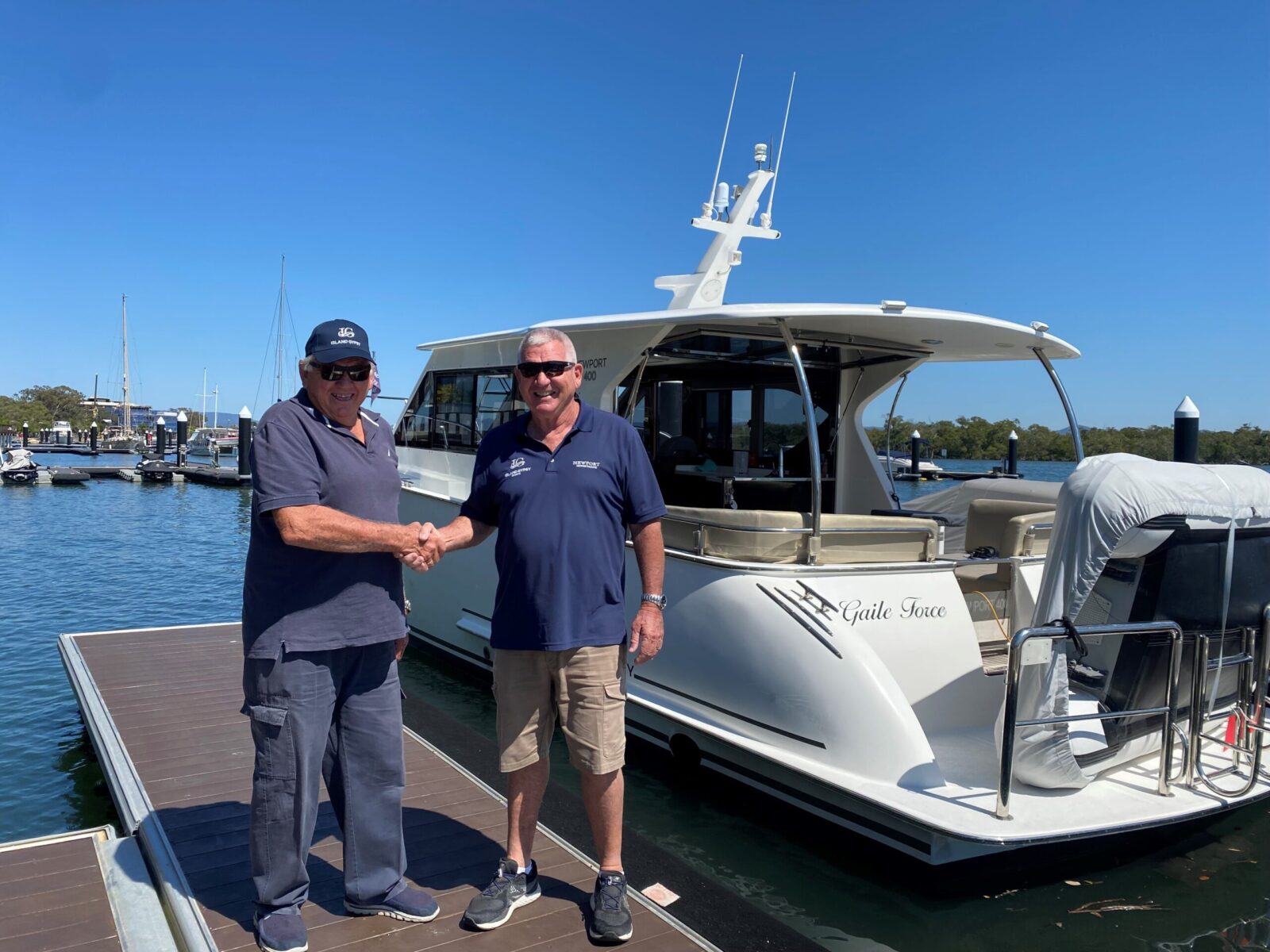 "It was a real head-turner," he says of the brand-new, two-cabin 40-footer that had just arrived in the country, fully-specced as Brett's own boat, with full Raymarine navigation equipment, air-conditioning and additional refrigeration, cockpit covers and gloss walnut interior.
"What first struck us was the trawler-style exterior, which harks back to the classic Halvorsens of the 60s. Then we went on board and really, we couldn't fault it. Brett has got everything right. It's the best finished boat I've seen."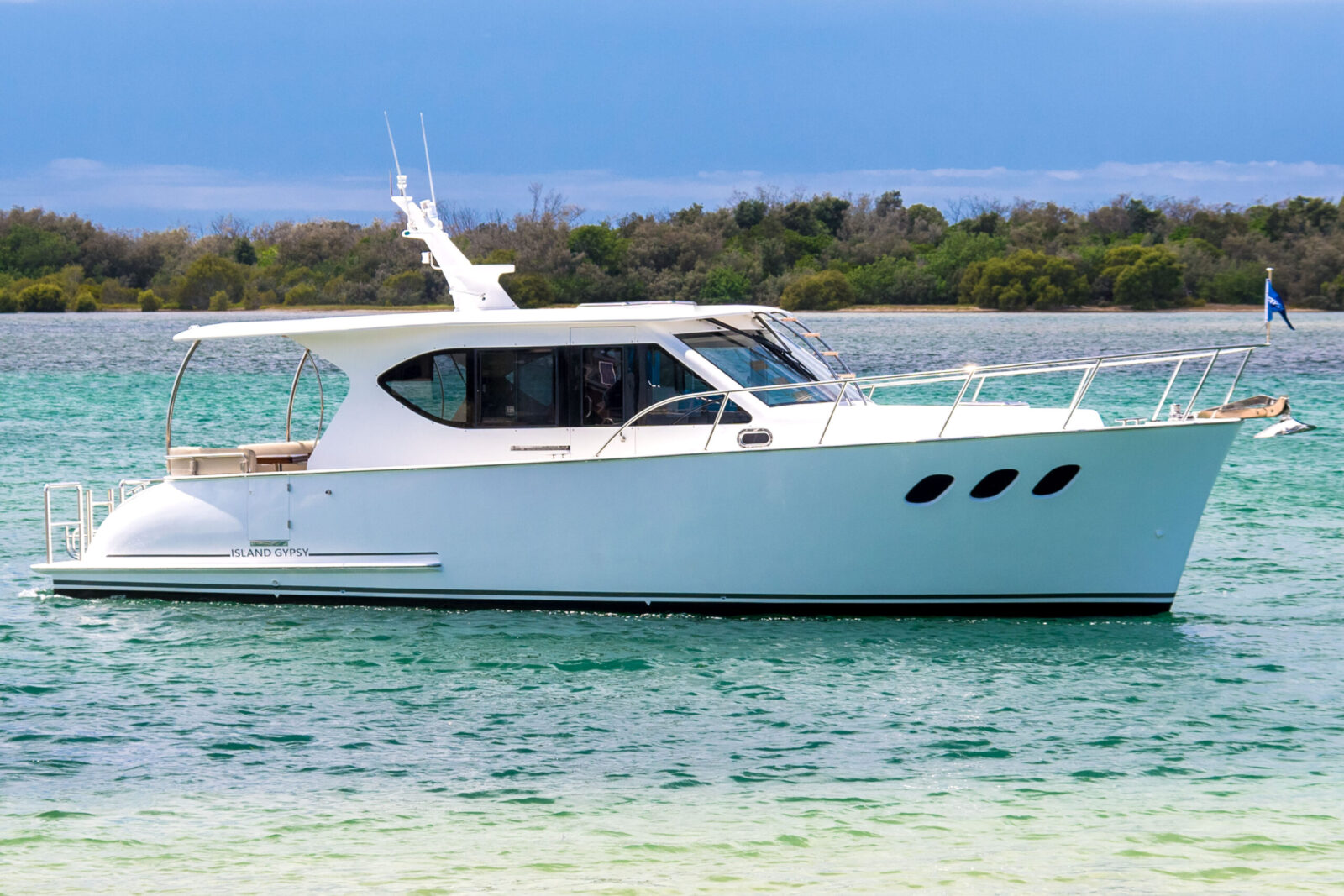 Among the features that stood out for their practicality and finish are the twin cabins, optimising every last bit of volume, the full-height shower, interior colour-scheme, Corian benchtops in the galley and the lazarette in the cockpit.
For socialising and dining, two tables in the cockpit fold out to create a dining table with seating all the way round to accommodate up to eight guests.
Guests can enter the boat via the swim platform or using the port and starboard side gates into the cockpit, which is brilliant for guest safety and ease of access. Deep walkaround decks are yet another safety feature, as is the helm-side door for the skipper's comfort and vision while docking.
The twin-cabin model means Clive and Gaile can store their gear for longer sojourns at sea, or welcome in-laws and extended family aboard for overnight stays.
This IG40 is equipped with a single 288hp Nanni/John Deere diesel engine and with its bow and stern thrusters, is extremely easy for the couple to handle.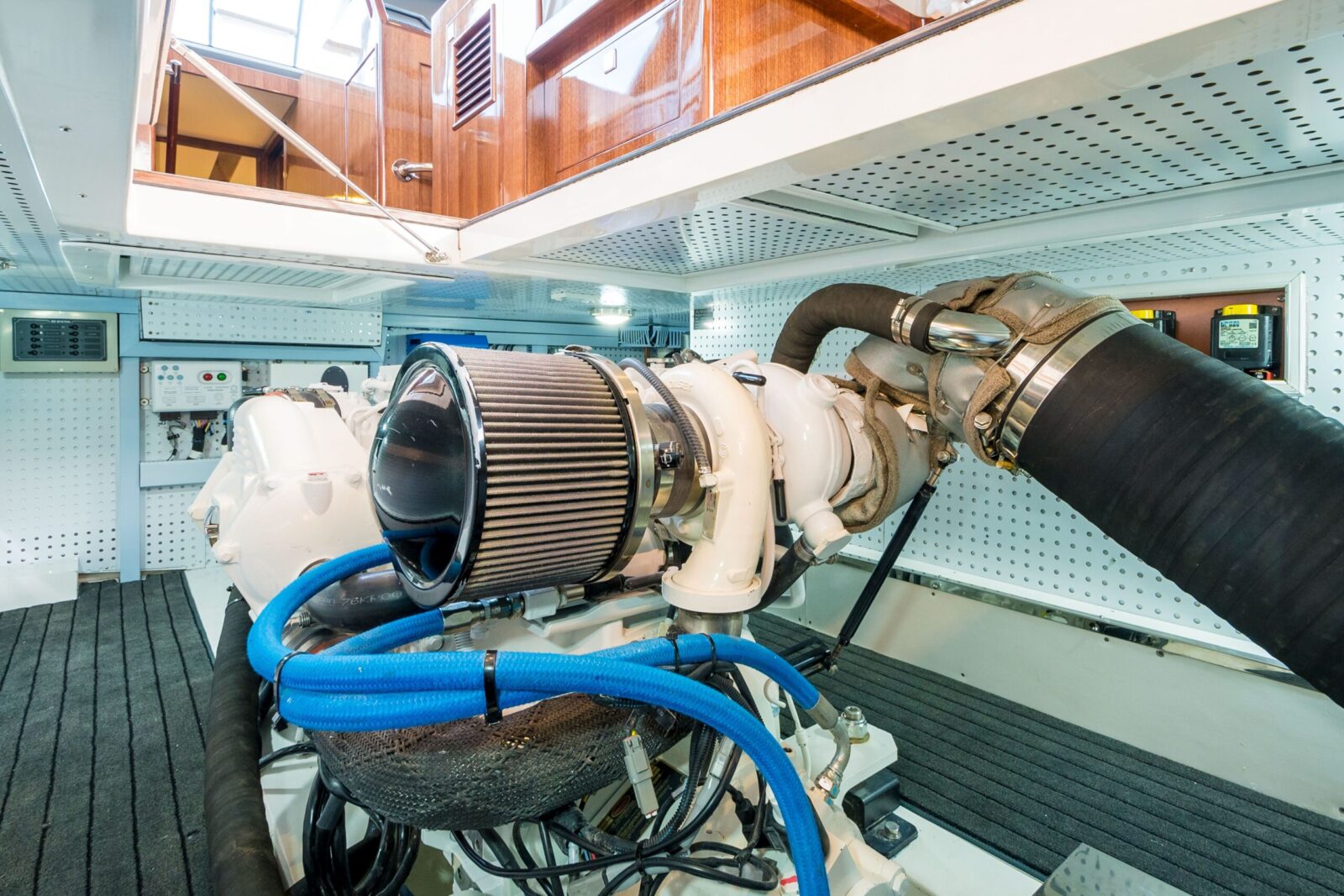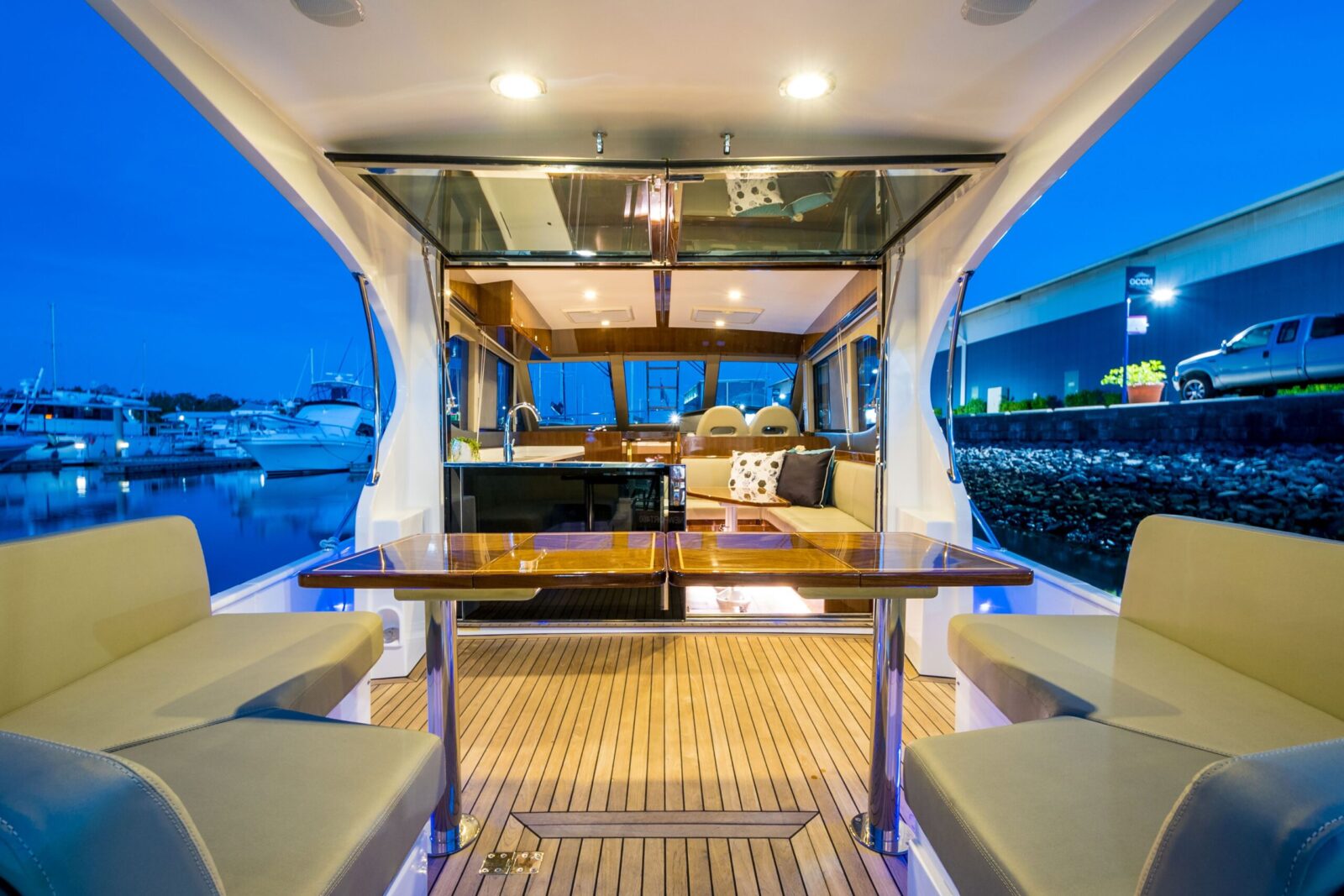 "We reach a top speed of around 13 knots, which is plenty, and a cruising speed of around 10 knots at 1,700 rpm, which uses around 15 Litres of fuel per hour.
"We're thrilled with the operating costs so far. It can be very stressful when boating is costly. With Island Gypsy, Brett has created an extremely fuel-efficient and low maintenance vessel that's easy to love. The single shaft driven diesel engine with keel protection is extremely efficient and low maintenance.
"Everything is so well set up for safety, ease of living and aesthetics," continues Clive. "The boat came complete with everything a boatie would want for safety, leisure, fun and fuel economy."
They bought the boat in June 2021, which they called "Gaile Force", because as Clive explains "Gaile really is a force of nature!" and have spent the winter months getting to know her on the Gold Coast.
Now that spring weather has declared the season open, Clive and Gaile are planning trips further afield, cruising to Moreton Bay, Tangalooma, Bribie Island and up to Mooloolaba on the Sunshine Coast.
"We've enjoyed every minute aboard so far, and we're looking forward to more stress-free cruising over summer. It's been fantastic to deal with Brett and the team. Everything they promise, they deliver."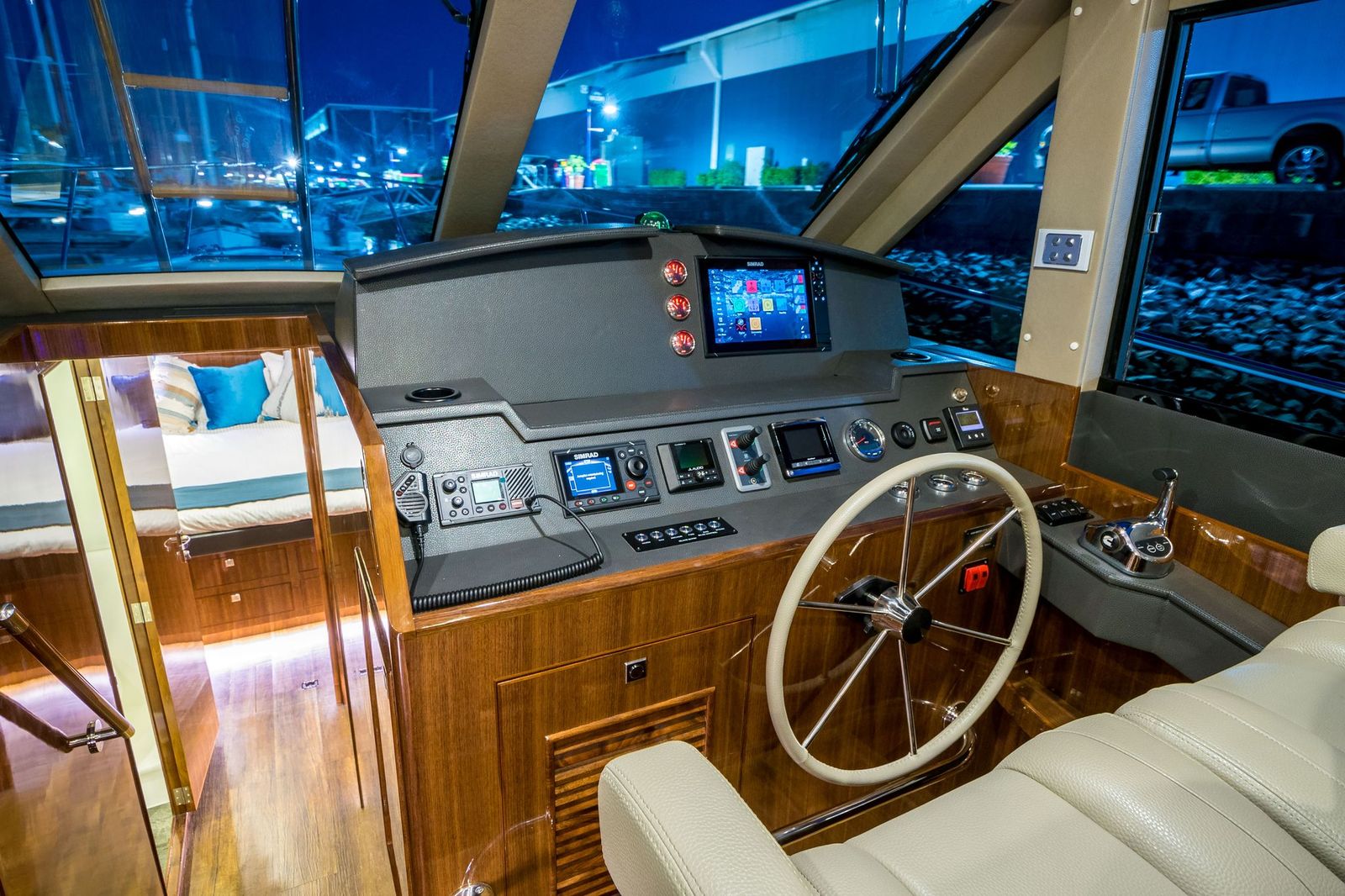 Boats International is currently awaiting the arrival of seven Island Gypsy 40s, all of them sold, as well as the 50 which is sold, and the twin-engined 65-foot flagship, also sold. Underway at the factory are two 40s, which Flanno is keen to negotiate on and customise for their new owners. Delivery time is estimated at around six months.
"It really is an attractive proposition," says Brett proudly. "Island Gypsy offers the best of all worlds – for all their features, they're affordable, economical to run and we provide full-service and support up and down the east coast of Australia. We're very proud of our brand and we're extremely satisfied that boaties are appreciating the Island Gypsy differences. Our sales and feedback are testament to that."
The Island Gypsy 40 twin cabin cruiser is priced from AUD$649,000.
For more information contact Brett Flanagan direct on 0414997654
boatsinternational.com.au
Click here to view the full photo library