Polymer-based boat wax contains no messy fillers
Published on: 19th May, 2022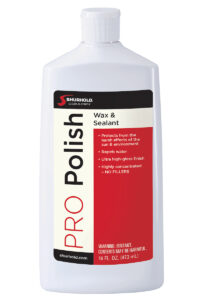 Caused by fillers in the product, many waxes leave behind a white chalky residue that needs to be wiped off after buffing. Not only is this a waste of material, but it adds time to a detailing project—especially when the powder finds its way into small crevices. With Shurhold's Pro Polish Wax & Sealant, boat owners can quickly achieve a showroom-like finish without the added hassle of cleaning up the filler residue.
Pro Polish Wax & Sealant is a polymer-based formula that uses only cosmetic-grade ingredients. Because it doesn't contain abrasive fillers such as talc, it applies easily and won't damage the boat's surface. Once buffed to a high sheen by hand or machine, it provides a hard, durable finish with excellent water beading properties and long-lasting protection against UV oxidation, salt, dirt, acid rain and environmental soiling. It's ideal for gelcoat, paint, clear coat, vinyl graphics, stainless steel and aluminum.
Dedicated to educating boat owners, Shurhold provides key tips for boat value preservation at www.shurhold.com. Inventor of the One Handle Does It All system, Shurhold manufactures specialty care items and accessories to clean, polish and detail.
Shurhold's Pro Polish Wax & Sealant is available in Australia through the distributors bla.com.au and www.mysaust.com