Protect your Piles!
Published on: 14th Nov, 2023
Superior Jetties are on a quest for cleaner piles without the barnacle buildup that has caused so many maintenance headaches over the years. Every marine pile is subjected to this natural phenomenon whereby the spat attach to the object in the marine environment particularly in the splash zone. These very small algae and spat start as a green scum, which over time gradually build into very hard shells that build onto each other. The result can be quite large structures which can cause a floating pontoon to become stuck on a changing tide.
The pile guide blocks are most susceptible to getting caught under barnacle shells on an incoming tide and there are pontoons that have been broken by the power of the incoming tide. Correspondingly, the more dramatic event is a pontoon held up out of the water when the pile bracket is caught on top of the barnacles.
Hence the launch of the Superior Pile Ring complete with our "shark teeth" technology that gently removes spat and growth from a new or recently cleaned pile. It does this by the movement of the water on the floating ring and this self-cleaning mechanism will provide long life through durable materials. Each pile ring has been designed to fit a span of pile diameters with a total of four sizes ranging from a nominal 315mm, 400, 450, 500 or 710mm piles.
The primary features are as follows:
Rotomoulded on the Gold Coast in QLD Australia from partially recycled polyethylene sourced in Australia.
An internal urethane filler makes the units sink resistant over time.
A UV additive prevents the premature breakdown of the materials.
2 piece structure with fitted bosses to allow for retrofitting to existing cleaned piles without removing pile brackets.
Alternate connectors available with 316 stainless or zip ties able to secure the units together.
The design allows an area for branding for large orders for commercial clients.
The pile ring is designed and manufactured in Australia for Australian conditions. It is a two piece to facilitate the significant retrofitting need. The lucky customers of the Superior floating product range will be receiving pile rings incorporated into their future projects, which will make us all happy!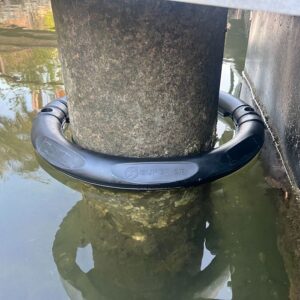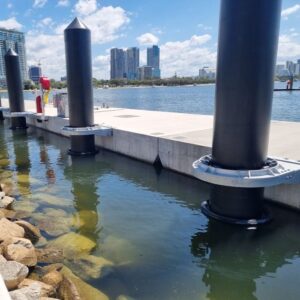 Click here to view brochure