Quintrex Challenges 'Where Next?" with the 2021 Cruiseabout
Published on: 9th Jul, 2021
Quintrex is prompting Australians to think "where next" with their adventures as they release an all-new lineup to the public this May; inclusive of the family favourite, the Cruiseabout.
As local travel booms, boating has increasingly become hot topic with sales industry-wide seeing record numbers as people explore new ways to escape their everyday.
"Between cruising the waterways solo and heading out with a group of family or friends, or venturing out for a morning run and loading up for a boat camping trip, boating provides an endless source of travel opportunities and we are excited that we get to share that with so many people," said Madeline Bishop, Marketing and Communications Manager.
"It is a thrilling industry to be in, every day we help make countless people create endless memories by exploring their backyard, and as we welcome an increasing number of new boaties into the industry, we have invested our efforts towards making their purchasing process as seamless as possible."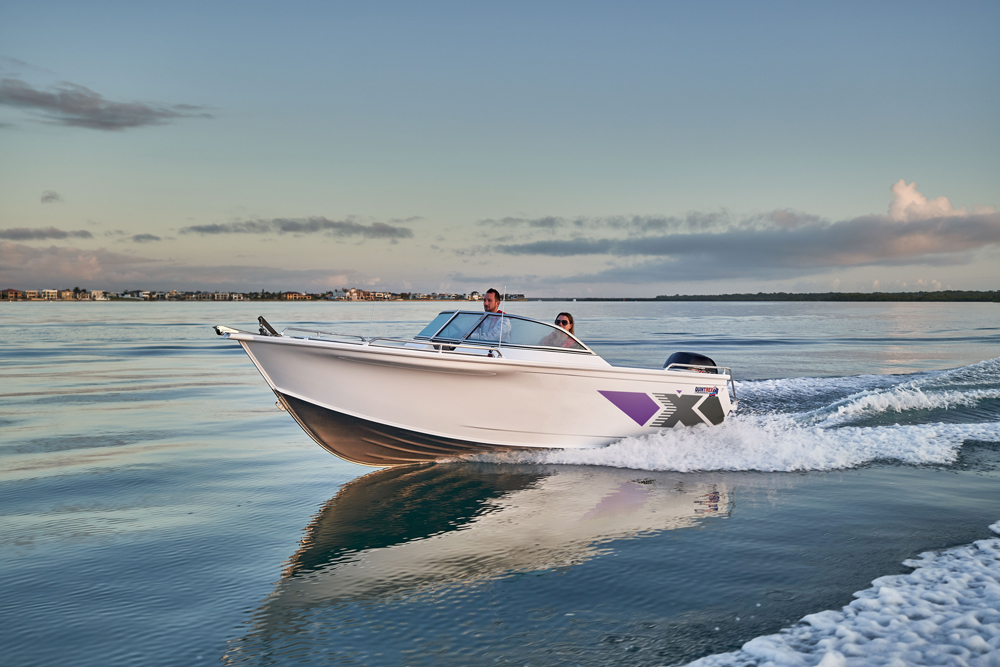 This year, Quintrex has launched its first brand-specific Boat Bundle strategy aimed towards ease of consumer optimisation.
Whilst still able to opt for individual features, consumers can now choose a boat suited to their budget and lifestyle with a group of clean-cut packages:
Cruiseabout – the most cost-friendly option that features only the essentials.
Comfort Bundle – offering optimal comfort and sun protection with a bimini and envelope, tonneau cover, upgraded seats, an upgraded rear lounge and backrest, bunk infill cushion, cockpit table, plus a sound system and speakers.
Fishing Bundle – to assist fishos in hooking that big catch with a burley bucket kit, transom cutting board and ski pole duo, VHF radio, and LED cockpit lights and switches.
Captain's Bundle – built specially for the captain with an upgraded steering wheel and a mechanical tilt to hydraulic tilt steering upgrade.
Cruiseabout Pro – the deluxe model inclusive of all premium options and features incorporated in the Boat Bundles, plus upgraded seating.
"True to our history, the 2021 Cruiseabout has been updated with family and overall consumer experience front-of-mind to deliver an all-new aluminium bowrider experience," Madeline said.
"All changes have been derived from customer and dealer feedback, along with data drawn from an industry specific survey in order to continue building on the famous Quintrex product whilst setting new boating standards."
The 2021 Cruiseabout will see the new 2021 transom with the duckboard positioned higher on the stern to glide over the water, a redesigned dashboard for a more seamless finish and to fit larger electronics, a fresh aluminium deck fascia design, new split bow rail and bowsprit design, dual maxi brackets and much more.
To optimise the overall experience and ergonomics for all drivers, tilt steering has been newly introduced to the Quintrex lineup with Cruiseabout models 500 and under featuring mechanical tilt steering, models 520 and over receiving hydraulic non-tilt steering and all Cruiseabout Pro models boasting hydraulic tilt steering.
All Pro models above 500 will also feature the new upholstered side pockets, along with updated bow cushioning and deluxe rear lounge upholstery that deliver a seamless finish due to hidden fastenings.
Reflective of the new range comes an all new look for the Quintrex brand as it launches a fresh stripe design, set to trademark all boats under the Quinnie umbrella as it rolls out across the entire range.
"We hope that the stripe design will become as recongisable as the Quintrex name so our boats make a statement on the water from near and far," Madeline said.