Schmitt Marine & Cobra International partner up
Published on: 21st Nov, 2023
Schmitt Marine, manufacturer of premium marine steering wheels and related accessories, has partnered with Cobra International to develop hybrid composite marine components. The industry-shifting collaboration introduces the ability for OEMs to add carbon fiber structural and non-structural parts without the exorbitant costs associated with 100% carbon fiber layup.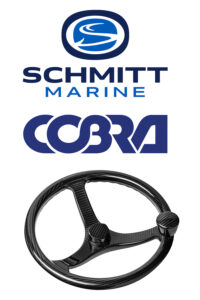 "Our innovative design and production processes keep costs balanced and improve performance," said Jed Schober, Schmitt Marine product development specialist. "It dramatically expands our capabilities as we create a stronger and lighter future for our mutual customers." The Schmitt relationship with Cobra International within the marine industry is exclusive.
Founded in 1978, Cobra International is globally recognised as a leading composites manufacturer in the marine, automotive, aeronautics and architecture industries. Its 92,900sqm facility is ISO 9001 certified to take on complex projects of any scale.
Unlike hydro-dipped components, the Schmitt/Cobra technique uses clear carbon prepreg skin over a backbone or a different material. This makes it light and strong. Perhaps best of all, the high-gloss finish looks spectacular on virtually any marine dash or console.
Without the high cost typically associated with advanced composites, OEMs looking to enhance their model line should be particularly interested.
This product is available in Australia through:
David Allen – Sam Allen Wholesale