Shurhold: One Handle Fits Over 40 Boat Tools and Accessories
Published on: 8th Dec, 2021
When storage space is at a premium, Shurhold's One Handle Does It All system is the ideal solution. With a single handle, boat owners can attach a wide range of tools and accessories that will reduce the number of separate items needed to be stored on board.
The heart of the Shurhold system is the handle. Made in the USA, it's manufactured from high-strength, corrosion-resistant aluminum. Available in fixed and telescoping versions, each has a comfortable rubber no-slip grip.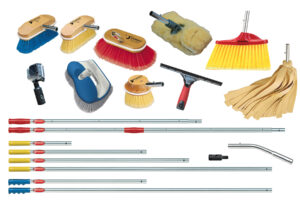 Fixed Length Handles come in 33cm, 76cm, 101cm and 152cm models. Providing additional reach, the 183cm Telescoping handle locks at four intervals between 101cm and 182cm; the 274cm model locks at five positions between 152cm and 274cm.
A 76cm extension and Curved Adapter are available to fit any Shurhold handle.
Shurhold offers over 40 different attachments for their handles. Each snaps onto and off the end quickly and effortlessly. This makes switching between a deck brush and mop, for example, fast and easy.
Among the cleaning accessories offered are brushes, mops, brooms, swivel scrubbers and squeegees. The boat hook and paddle are essential aboard any boat. For fishermen, Shurhold offers a range of nets and gaffs. And for the ultimate selfie, the camera adapter is unrivaled.
Dedicated to educating boat owners, Shurhold provides key tips for boat value preservation on their website. Inventor of the One Handle Does It All system, Shurhold manufactures specialty care items and accessories to clean, polish and detail.
In Australia, Shurhold products can be purchased from BLA in Queensland and Major Yacht Service in NSW. In New Zealand, they can be found at Thirty Seven South in Auckland.