Simple steps to a clean and fresh marine sanitation system
Published on: 5th Apr, 2022
It doesn't take expensive testing equipment to know it's time to maintain a boat's sanitation lines; one whiff will do it. Raritan Engineering offers simple and environmentally-friendly maintenance any boat owner can perform to keep the entire system—from toilet to hose to holding tank or treatment system—clean and fresh-smelling all season long.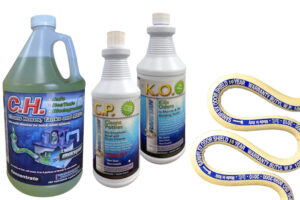 The toilet is most regularly in need of attention. Many bowl cleaners use heavy fragrances to mask their harsh chemical smells. Not so with Raritan C.P. Clean Potties. It's 100% biodegradable and non-polluting, yet highly effective. Plus, it doesn't contain bleach, so it won't degrade rubber parts and hose. Once the toilet is sparkling clean from the formula's unique bacteria, the product continues to work in the holding tank to eliminate waste and raw water odors.
Once the toilet is clean, the next area to look at is the holding tank. Raritan K.O. Kills Odors is a premium bioactive formula that's better for the environment than harsh chemicals such as formaldehyde or bronopol. Though powerful, it's non-toxic and non-caustic. Once introduced into the tank, it quickly breaks down and liquifies solid waste and paper. There's no need to use tissue digesters; pump-outs are clog-free.
For boat owners flushing with seawater, calcium carbonate is a serious problem. Minerals react with uric scale to form an accumulative layer that eventually clogs hoses and valves. Concentrated Raritan C.H. Cleans Hoses is the easy way to correct this. Simple to use, the proportioned quantity is poured into the toilet, run through the system and allowed to sit for six hours while it dissolves the buildup. After flushing with at least 38l of water, the holding tank is pumped out.
For hose that's old and beyond cleaning, Raritan Sani/Flex Odor Shield Marine Hose has a 10-year warranty against odor permeation. Manufactured from premium butyl rubber that's reinforced with double helix steel wire and synthetic yarn, it's highly resistant to bursting and collapsing. Incredibly flexible, the 3.8cm style has a bend radius of 8cm while the 2.5cm version is an impressive 5cm. This makes the task of snaking the hose around bends and corners fast and easy.
In Australia, Raritan products can be found via AMI online.