X-25465 Raritan: New Model Marine Elegance Toilet Larger, More Comfortable
Published on: 7th Feb, 2022
Since its introduction, the Marine Elegance™ has been a benchmark of reliable, superior-quality marine electric toilets. New for 2022, Raritan Engineering has introduced a Comfort Height Elongated Bowl version. Retaining all the outstanding features and modern styling of the original model, it now adds a level of comfort and powerful flushing typically associated with residential toilets.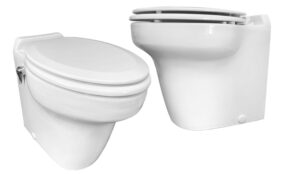 The Marine Elegance Comfort Height Elongated Bowl is made from gleaming and easy-to-clean white vitreous china. Hidden hardware preserves its clean, modern appearance. The 368mm W x 549mm L seat with soft-close lid is a comfortable 419mm off the floor. This not only delivers the ultimate in comfort, but makes it easier to get on and off, and steady oneself while the boat is moving.
Three plumbing configurations are available with the toilet. The Remote Pump model allows the user to draw in outside water for flushing. With the Pressurized Water Model, the Marine Elegance Comfort Height Elongated Bowl toilet uses water with a minimum pressure/flow of 18.9lpm and a maximum pressure of 10.3 bar. The SeaFresh option allows users to change between onboard freshwater or outside raw water with the flip of a switch. Exceptionally quiet at a mere 63dB, a powerful, yet low-power internal shredder with
stainless steel blades virtually eliminates clogging.
The Marine Elegance Comfort Height Elongated Bowl has four flush options. With the Smart Handle, a residential-style side lever provides timed operation and independent control of water and discharge by pushing or pulling. The wall-mounted Smart Toilet Control is fully programmable to optimise water use; adding the Wireless Remote Bluetooth Control eliminates wiring through bulkheads and cabinetry, plus programming can be done up to 15m away. Raritan's Multifunction Flush Panel enables momentary operation of fill, flush and discharge.
In Australia, Raritan products can be found via AMI online.