X-25572 Schmitt & Ongaro – popular Torcello PU steering wheel now CE marked
Published on: 19th Apr, 2022
When Schmitt & Ongaro Marine Products debuted the Torcello by Stella, the polyurethane marine steering wheel reset the bar for quality, customization and pure good looks. Now, along with NMMA certification, the popular component is CE marked (Conformitè Europëenne) to conform with EU safety, health and environmental requirements, making it even more attractive to European OEMs and distributors.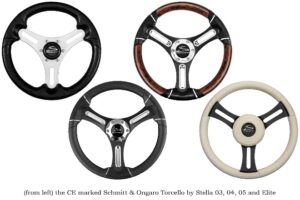 The three-spoke 35.5cm Torcello series is all about trim enhancements. By offering a wide range of customizations, the steering wheel can be tailored to match virtually any boat décor and style. Even the cap can be branded with the boatbuilder's logo. Plus, it provides the ability to meet a set price point without sacrificing quality. The wheel is offered in three models; all come with a 19mm tapered or optional splined hub.
The 03 version is the stock Torcello wheel and is available with black, brushed or polished spokes, a choice of chrome or no spoke trim, and scalloped chrome or plastic cap. The 04 model adds more levels of trim enhancements, while the 05 offers a choice of burl wood or carbon fiber finishes on the wheel rim and trim sectors. For OEMs, Schmitt & Ongaro's Torcello Elite is wrapped in hand-stitched marine-grade synthetic leather. Options and pricing are available by contacting .
In Australia these products can be purchased at BLA Brisbane and Sam Allen Wholesale.