A record number of luxurious superyachts and their A-list guests are likely to visit Brisbane and Australia's east coast for a front row seat to the 2032 Olympic Games.
Many of the world's most exclusive privately-owned vessels could descend on our shores in a sight normally reserved for the likes of the French Riviera.
Australia's leading superyacht refit and maintenance destination, Rivergate Marina and Shipyard, expects the influx would also deliver a massive economic and employment boost for the marine and tourism industries.
Rivergate is planning a major expansion of its Brisbane River facility, which would create a $200 million superyacht hub able to lift vessels of up to 3,000 tonnes and 90 metres for vital inspections, repairs and refits.
The expansion would also include extra berthing options for superyachts visiting for an Olympics, extensive hardstand space, new refit sheds, a 5-storey Trade Centre and resort-style accommodation for owners and captains.
"As a local family business supporting over 20 other local marine SME businesses directly, we are very excited about Brisbane being confirmed to host the 2032 Games and the opportunity this presents for our marine industry," said Rivergate Director Tom Hill.
"Queensland's amazing cruising grounds are already a big drawcard for international superyachts so the added bonus of hosting an Olympics could see a record number of vessels coming to our region," he said.
The Queensland Government has already established a Superyacht Strategy and recognises the $1 billion plus contribution the industry makes to the state economy through berthing, construction, maintenance and a growing charter market.
Rivergate's expansion would be perfectly timed for the Olympic Games, providing the important infrastructure needed to accommodate the growing global superyacht fleet.
Mr Hill said the new hub would provide superyacht owners and captains with the assurance of knowing they could access world-class facilities while in Australian waters.
"As the largest facility in the Asia Pacific capable of lifting out and servicing multiple superyachts, the Rivergate expansion would enable more vessels to visit for the Olympics and stay on to cruise the Great Barrier Reef and other spectacular destinations on our doorstep," he said.
Our research shows that an additional 60 superyacht visits a year would create 2,000 new jobs in the marine and tourism industries and contribute close to $1 billion to the Queensland economy."
The multi award-winning Rivergate Marina and Shipyard was established in 2006 and is now recognised as one of the top three superyacht shipyards in the world. It is widely respected by owners and crew for its highly-skilled trades, safe environment and warm hospitality.
Rivergate offers deep water access on all tides, near-perfect weather for year-round operations, and easy access to capital city services, including a 24-hour international airport only 10 minutes away.
As an official Customs and Clearance port, Rivergate would also be an easy choice for owners and crew entering Australia for the 2032 Olympics.
"As the primary Brisbane River marina with superyacht berths, Rivergate will be front and centre as Brisbane goes up in lights around the world," Mr Hill said.
To find out more about Rivergate's expansion plans, go to www.rivergatesuperyachts.com.au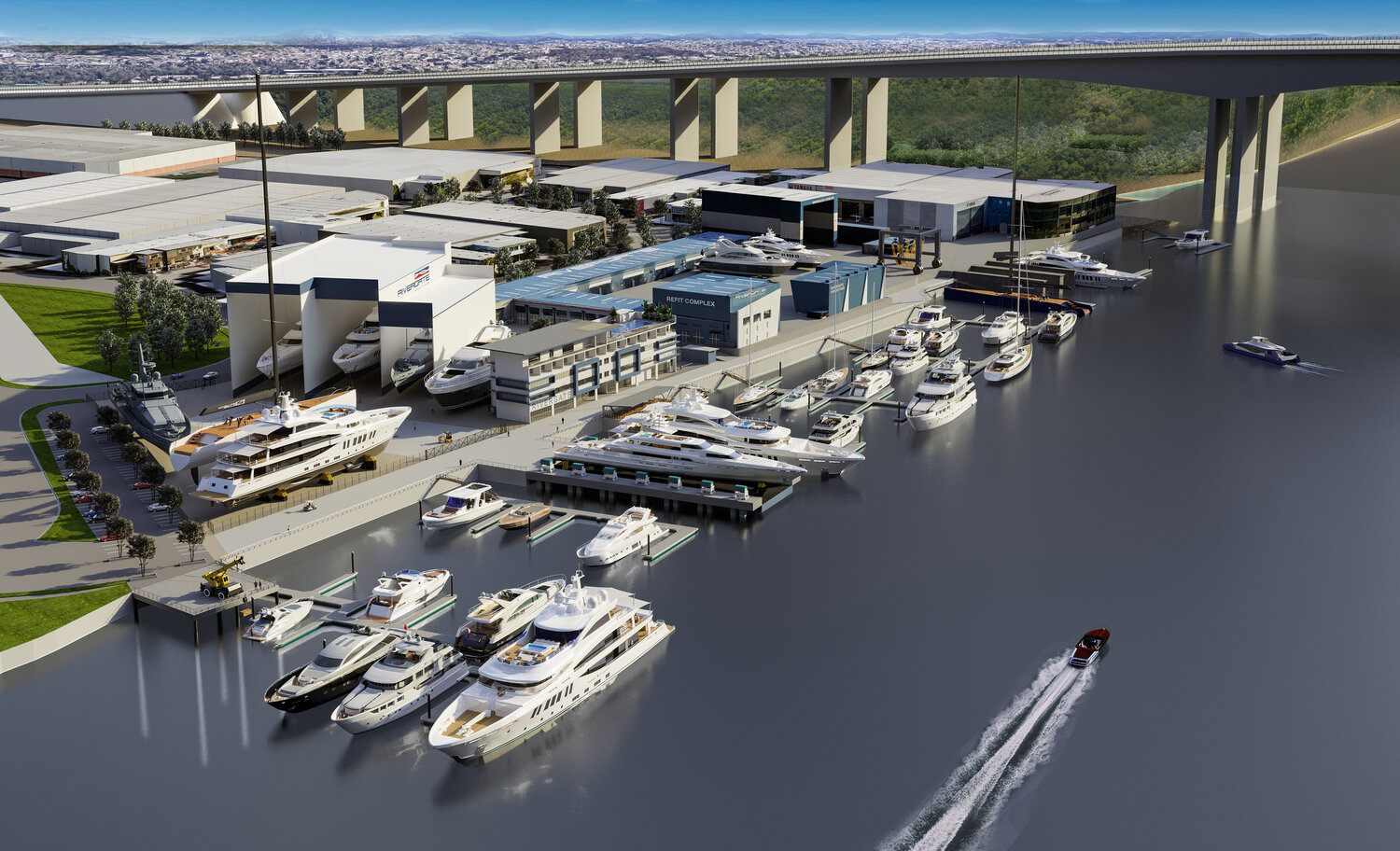 Rivergate plans major expansion to create a $200 million superyacht hub in time for the Olympic Games.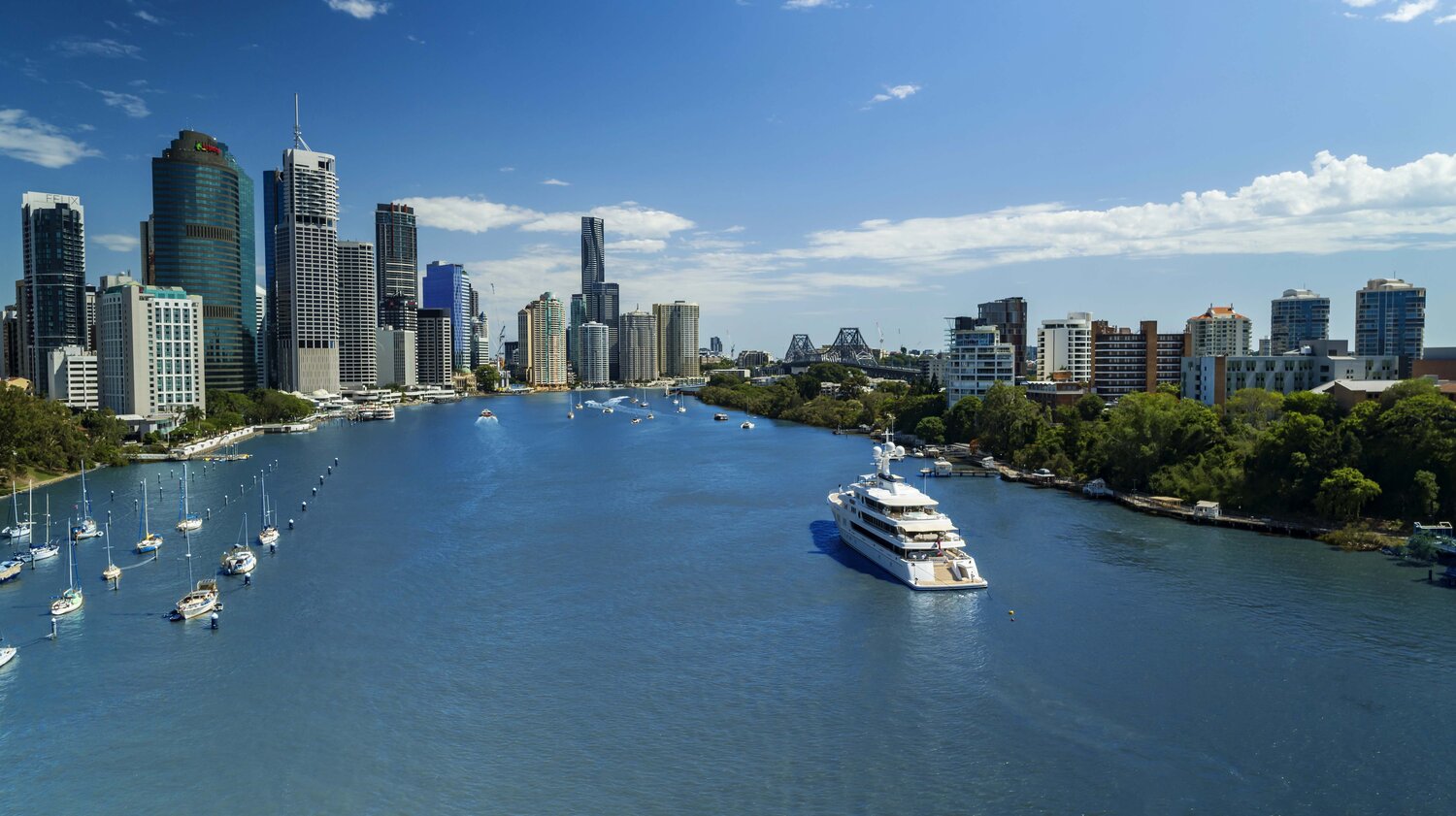 MY Aurora moored in the Brisbane River with the backdrop of the CBD.