Many industry members would know Andrew Cribb well, not only for his work at Marine Rescue, but also prior to that in his efforts to promote Sailing whilst with Yachting NSW.  During that time Andrew, or Cribby to most, was able to amass many many sailing clubs to support BIA NSW's Try Sailing Days.  A true champion lost to Marine Rescue, but no doubt a gain for Surf Life Saving NSW.
In departing Marine Rescue NSW, Andrew said:
"Today was a bittersweet day, the end of an era in my life but also the beginning of something new and exciting. This afternoon I finished up at Marine Rescue NSW as I prepare to start in the role of Public Safety Manager for Surf Life Saving NSW.
It has certainly been an interesting 6 (and a bit) years at Marine Rescue NSW and I'm proud of the achievements that the team have managed to implement in this time.
Some of the highlights that the team have implemented that I am most proud of are:
The world class marine VHF network (incl. AIS).
The 'Seahawk' tracking system developments, and the integration of the Incident Management System within it.
Standardisation and improvement of After Hours Call-out processes and response times.
The implementation of Professional Development sessions that the volunteers have enjoyed so much, including the redevelopment of the SAREX format.
A fit for purpose fleet built to the highest standards and many many more.
None of this could have been completed without the support from the hardworking staff and volunteers who make all of this happen, whilst running the organisation 24hrs/365 days.
As I go out for a sail tomorrow, I do so knowing that we are in safe hands should something go wrong.
There is too many people to thank, but I hope you all receive the recognition you deserve.
For me, it's 3 weeks of sailing, surfing, relaxing and golf (not relaxing) before I start at Surf Life Saving NSW on the 8th November.
See you on the flip side!".
Marine Business News wishes Andrew "Cribby" Cribb all the best in his new role.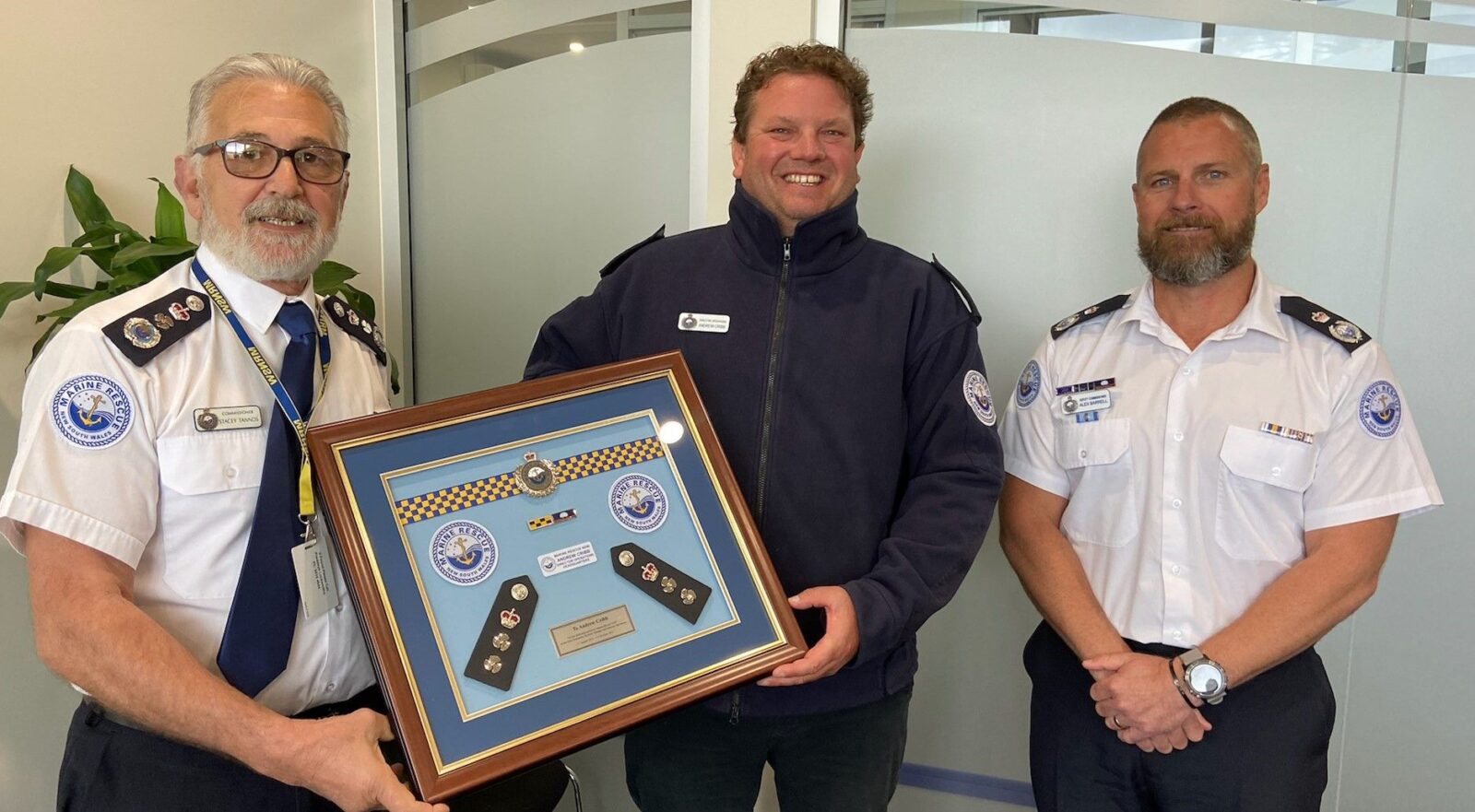 Commissioner and Chief Executive Officer Stacey Tannos ESM with Deputy Commissioner & Chief Operations Officer Alex Barrell of Marine Rescue NSW wishing Andrew Cribb (centre) farewell.