This new grant round aims to attract innovative projects that enable organisations and community groups to assist in managing Australia's 2.8 million square kilometre network of Australian Marine Parks.
A total of up to $8.6 million in funding is available for individual projects between $30,000 and $500,000 to help drive our commitment to the ongoing protection of Australia's unique marine environments.
The grants are open to a wide range of applicants including regional communities, Aboriginal and Torres Strait Islander organisations, the tourism sector, scientists, recreational and commercial fishing and the seafood industry to build capacity in the management of Australian Marine Parks.
Australia boasts one of the largest representative networks of marine parks in the world, with 58 Australian Marine Parks around the Australian coastline, protecting our offshore marine environment. Australian Marine Parks are places of exceptional biodiversity and cultural value. They are also places of recreation and support the livelihoods of Australians by creating jobs in the tourism and fishing sectors.
The success of the previous two rounds of the Our Marine Parks Grants program shows that Australians want to support the management of our marine parks and Parks Australia is supporting them in that endeavour.
Previous rounds of the Our Marine Parks grants program saw a combined investment of $11 million into 34 projects and the delivery of some outstanding marine conservation outcomes. These include increased engagement in the management of Australian Marine Parks, improved sustainability of fishing practices, and improved knowledge of Australian Marine Parks.
Dr Matthew Navarro University of Western Australia, who is a previous grant recipient, said that many Australian fishers care deeply about the marine environment and possess knowledge that will help ensure it is sustainably managed.
"The Australian Government's Our Marine Parks Grants is supporting us to incorporate fishers' knowledge into management of the oceans," Dr Matthew Navarro said.
"We're working directly with fishers who are experts in their local area to better understand fishers' knowledge might be used to improve management of Australia's oceans."
Australia is a world leader in marine protection and there are many commercial organisations who are passionate about our marine ecosystems and are making a positive and innovative contribution.
Grant recipient Sophie Teede, from Busselton Jetty Incorporated said that as a local tourism destination and icon, Busselton Jetty is uniquely placed to provide an immersive and educational experience for thousands of visitors each year.
"Without getting wet, our visitors can discover some of the unique habitats and marine life found in Australian Marine Parks.
"Our participation in the Our Marine Parks grant program will allow us to connect people of all ages to Australia's incredible marine environment." – Sophie Teede said.
The third round of Our Marine Parks Grants is part of the Australian Government's $39.9 million investment in Australian Marine Park partnerships and forms part of the broader $100 million Ocean Leadership Package announced in April 2021.
Australian Marine Parks are managed by Parks Australia and deliver benefits for all Australians. These marine parks include a diverse range of tropical, temperate and sub-Antarctic habitats and species.
Applications for round three of the Our Marine Parks Grants program open today and close 9pm, 16th December 2021.
There are a number of resources including informative videos, and questions and answers that will help applicants to apply. Links to these resources including the online application form are available on the Community Grants Hub website.
For more information and application details, visit the Our Marine Parks Grants Program.
Where are Australian Marine Parks?
Click on the map to open the Marine Parks interactive maps page.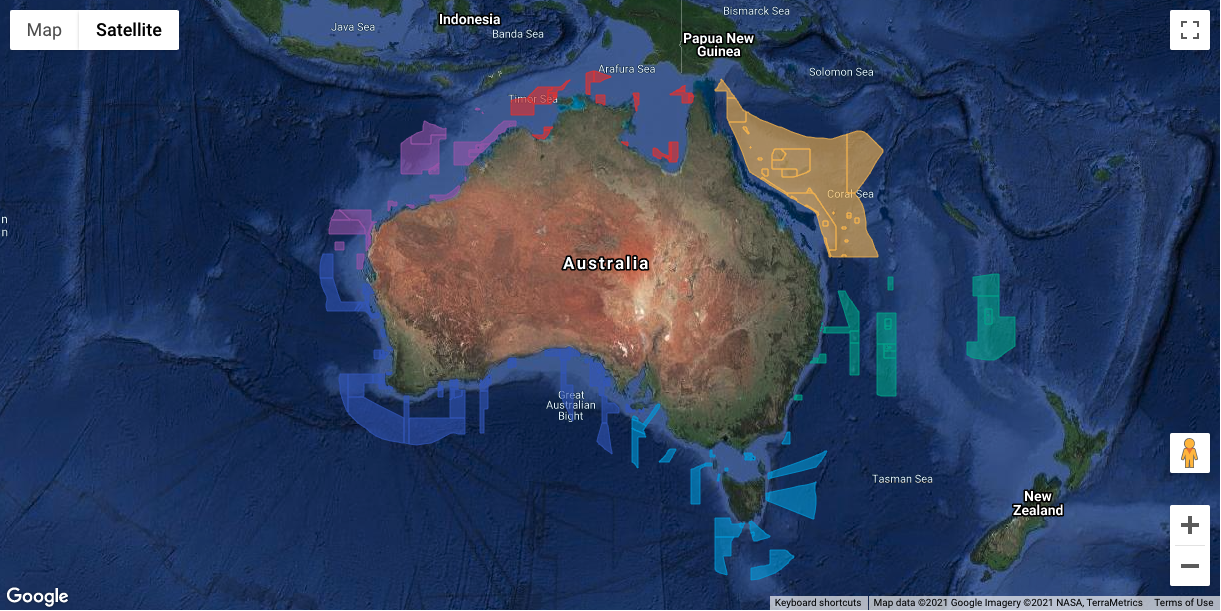 Australia's marine parks
The Australian, state and territory governments have established marine parks around the country, covering 3.3 million square kilometres or 37 per cent of our oceans.
The Great Barrier Reef marine park is managed by the Great Barrier Reef Marine Park Authority and the Heard Island and McDonald Islands marine park is managed by the Australian Antarctic Division.