Organisers of the Sydney Superyacht Festival scheduled for January say that further information is planned for release at the end of November.  Sofitel Hotel Darling Harbour owner, Dr Jerry Schwartz shared their vision for the future of Darling Harbour today.
Darling Harbour could be the new home of an international tennis competition in the lead up to the Australian Open — with plans for a floating court at the centre of the harbour.
Sofitel Hotel Darling Harbour owner, Dr Jerry Schwartz, is determined to reinvigorate the tourism and leisure precinct post Covid lockdowns, despite being upset over a decision by the Independent Planning Commission to green light $705 million plans by Mirvac for a 45-storey residential tower at Harbourside Shopping Centre.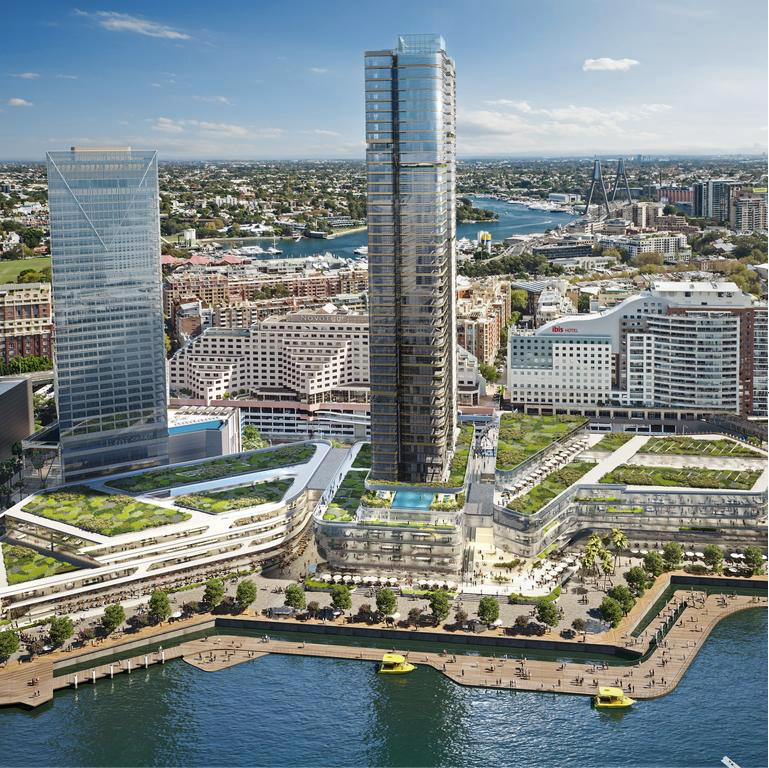 Developer Mirvac has unveiled plans for a $1.5 billion revamp of the 8000 square metre Harbourside Shopping Centre at Darling Harbour that will include a widened waterfront boulevard and pedestrian bridge connecting it to Pyrmont.
Dr Schwartz said the decision could "destroy" the tourism hub but said he would continue to come up with innovative ways to attract more people to the harbour foreshore.
"We would like to see top players participate in the Darling Harbour competition in preparation for the Australian Open in January 2023," said Dr Schwartz.
"The other beauty of a competition like this one is there is audience participation, and the matches are shorter and will attract a crowd.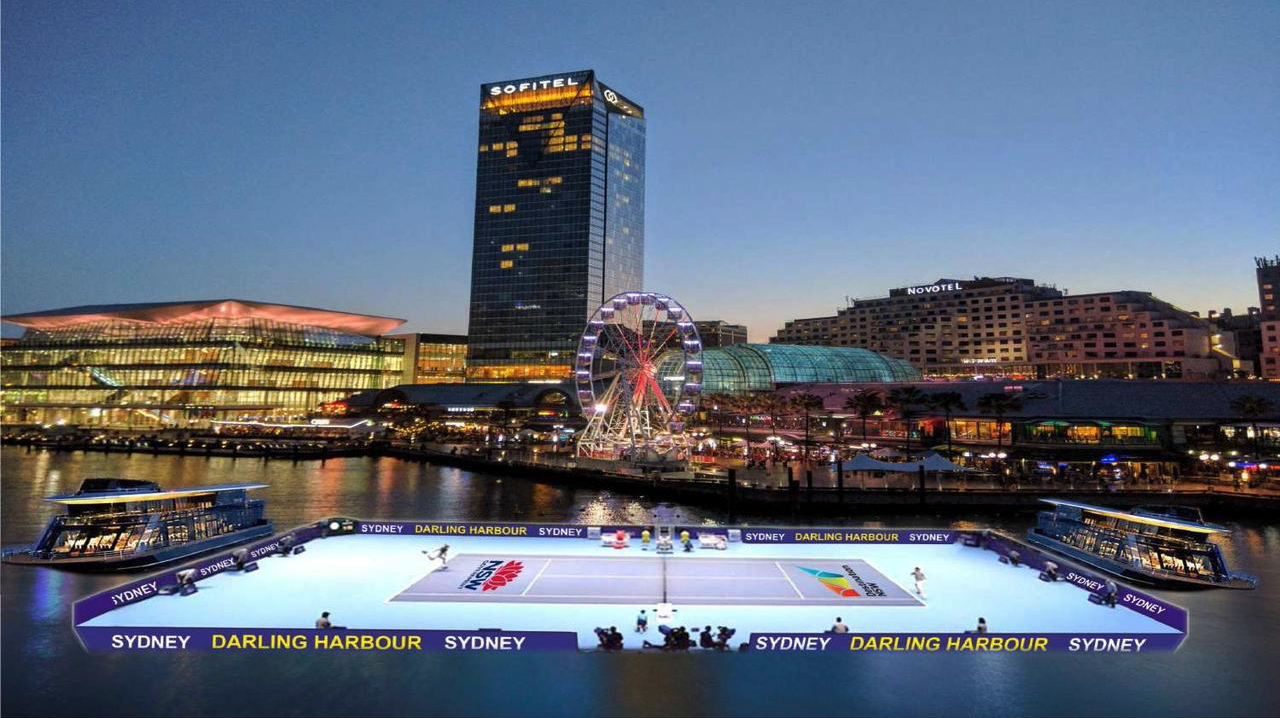 Artist impressions of a plan for a floating tennis court at Darling Harbour. Picture: Schwartz family Company
"The main aim is this concept would be another reinvigoration plan for Darling Harbour."
Dr Schwartz said the floating tennis court was just one plan for the precinct — revealing plans for the Sydney Super Yacht Festival to be hosted at Darling Harbour from January 1 to 6.
The festival would include fine food, entertainment, picnics on Shark Island, a floating marina and water sport pontoon and functions at Schwartz' Sofitel.
"We are bringing to life the Super Yachts Festival to open up Darling and Sydney Harbour with some of the biggest and most luxurious yachts in the world," he said.
"The whole idea is to give these super yachts and their crews involved in a display and festival after the Christmas and New Year's rush."
Dr Schwartz said he hoped the two events, would generate 20,000 to 30,000 visitors each January.
"This would boost the occupancy rates of hotels after New Year's," he said.
"We have led the way with original, distinctive events and Destination NSW is the front door for anyone with a new and innovative idea to help grow our tourism industry," he said. Tourism Minister Stuart Ayres said "NSW is open for business to event owners".
Vision courtesy of Channel 7 News.