Marina Industries Association (MIA) have announced that the data collection for the 2021 Health of the Marina Industry Survey (HAMIS) will take place this month.
This important survey takes place biennially and provides valid and reliable data on the value of the marina sector, its contributions to employment and the economy and the ancillary benefits that flow from it.  It is extremely important to the marine associations in presenting cases to governments on behalf of industry and to marina owners and operators when liaising with local governments around potential developments.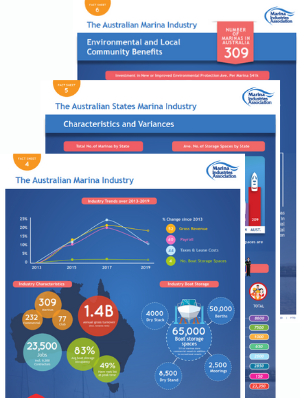 The survey consolidates key operational data generating useful benchmarks which can be a valuable tool to assist in measuring marina operations, identifying potential for operational improvement and for recognising development opportunities.
All information provided in the survey is held confidentially by Michigan State University and no individual data is provided back to the MIA.  The University researchers analyse the data collected and provide consolidated results and trend data only.  The information is broken down by State and marina type to provide more meaningful information and benchmarks for operators.  More information and a sample of the data derived can be viewed on the MIA website here.
The MIA are encouraging all marinas operators to engage in this important industry project to ensure the industry can be properly represented and resourced.
MIA will send an email to all marinas 24-48 hours ahead of the survey to advise the need to look out for it as it will not come from the MIA, but from Michigan State University researchers.
A complimentary copy of the complete consolidated report will be provided to all who complete the survey, which is likely to be available early in the new year.
For those who choose not to contribute but wish to acquire the survey it will be available to purchase from the MIA website.
$750 for members

$1,549 non-members (ex GST).