As the marine industry enjoys strong growth, a new website launched by NZ Marine aims to bring together employers and those looking for new roles within the sector.  But NZ Marine Jobs is more than just a way to fill job vacancies — its goal is to bring together those in the industry and act as a central hub for career development across the New Zealand marine industry.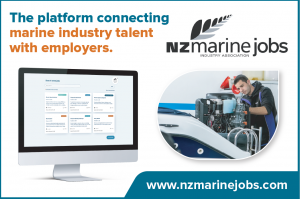 The site was originally planned last year to facilitate talent retention within the industry in the face of redundancies caused by the Covid pandemic, but now the opposite has happened, with many marine businesses experiencing a boost, says Caroline Gibson, Manager Membership & Communications at NZ Marine.
"The industry has fared a lot better than we
thought it might.  People can't travel, so they have turned to what they can do in their own back yard, and some sectors of the industry have been booming," Gibson says. "For the last year our team of field officers has regularly been asked where they can find more staff.  Especially with current immigration restrictions, it's hard to keep up with demand."
NZ Marine Jobs is a tailored, industry-specific job site where NZ Marine Industry Association members can advertise positions knowing they will be seen by those with suitable skills and experience, rather than advertising on a general job site.
"We wanted to create a way to support our members and to make it easy for them to find the staff they needed, in a targeted way," Gibson says.  "They might have been using other online job sites to advertise, but this is much more specific and focused, as well as being much more cost-effective than other channels."
Job-seekers can create a simple 'candidate profile' to view full details of jobs on offer, which will also help NZ Marine develop a database of potential workers and their areas of interest and expertise. Those signed up to the site can save jobs to their watchlist, create reminders and have job notifications sent directly to their inbox.
Gibson says NZ Marine intends to keep the site vibrant and interesting by including marine industry news, and include links to the industry association-owned apprenticeship training provider, Marine and Specialised Technologies Academy (MAST), which was launched in September to provide industry-approved apprenticeship programs for the many qualifications available in the marine industry.
"We want to engage with young people who might be considering a career in the industry, showcasing the types of roles available as well as directing them to the MAST Academy site, its training programmes and the School to Work initiative for senior high-school students," she says. "There might also be people already in the industry who are considering retraining or change roles within the sector, and we can help them make those connections too."
NZ Marine Executive Director Peter Busfield says, "We look forward to this new service being of great value to our member companies as we strive in our mission to encourage development of the New Zealand Marine Industry and support our members to build successful businesses."
Over 500 companies are currently NZ Marine members.  Access to the NZ Marine Jobs site is yet another benefit of belonging to the industry organisation, along with boat show exhibitor discounts, networking and upskilling opportunities, industry statistics and promotion via NZ Marine websites and publications