Aussie adventurer Jase Andrews has again teamed up with marine electronics brand Raymarine for series 13 of his top rated All 4 Adventure fishing and outdoors show.
This time Jase explores northern Western Australia, known for its vast and rugged coastline. Titled "The Red Coast", this latest season of All 4 Adventure features plenty of hard-core fishing and boating in some of Australia's most remote waterways.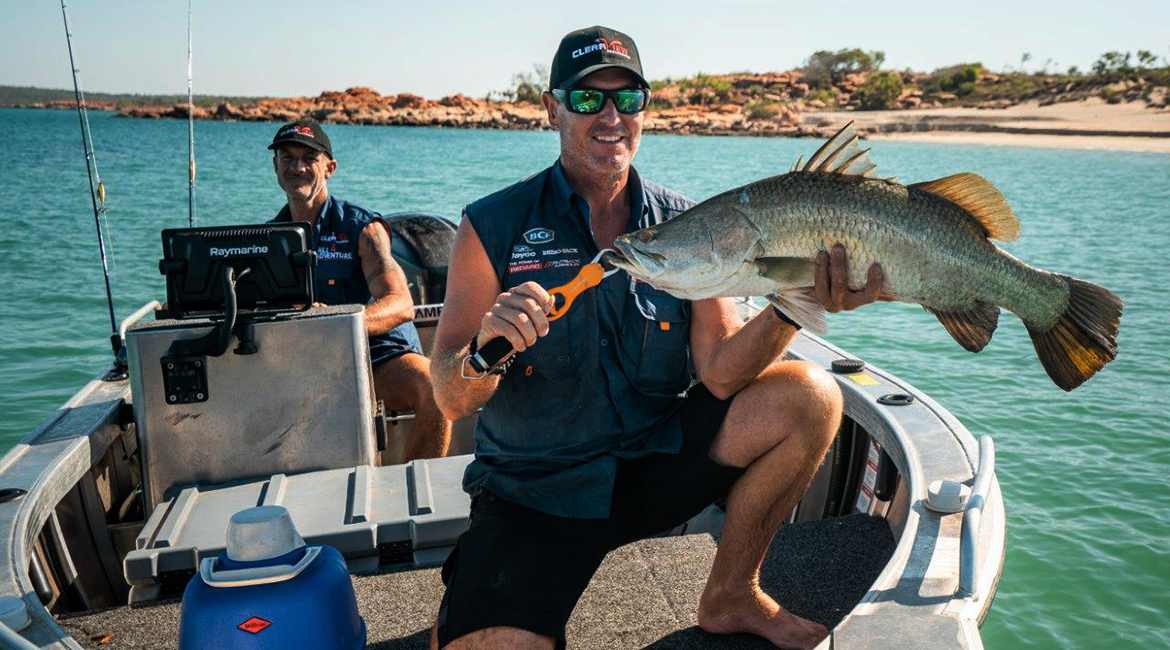 As usual, Jase and the crew rely on the proven power, performance and dependability of Raymarine marine electronics as they travel through this harsh yet spectacular landscape.
This season of the show features a new addition to the All 4 Adventure arsenal – a custom built alloy barge which allows the team access to areas that even Jase hasn't been to before!
Powered by twin Mercury outboards, and designed to transport quad bikes on the foredeck and a tough-as-nails Sea Jay tinny on the roof, the barge is purpose built for long range expeditions into remote locations. Along with ample fuel and water capacity, the barge is fitted out with an array of Raymarine electronics including twin Axiom Pro RVX 12″ MFDs, a Quantum Q24D Doppler 18″ Radar and an Evolution Hydraulic Autopilot.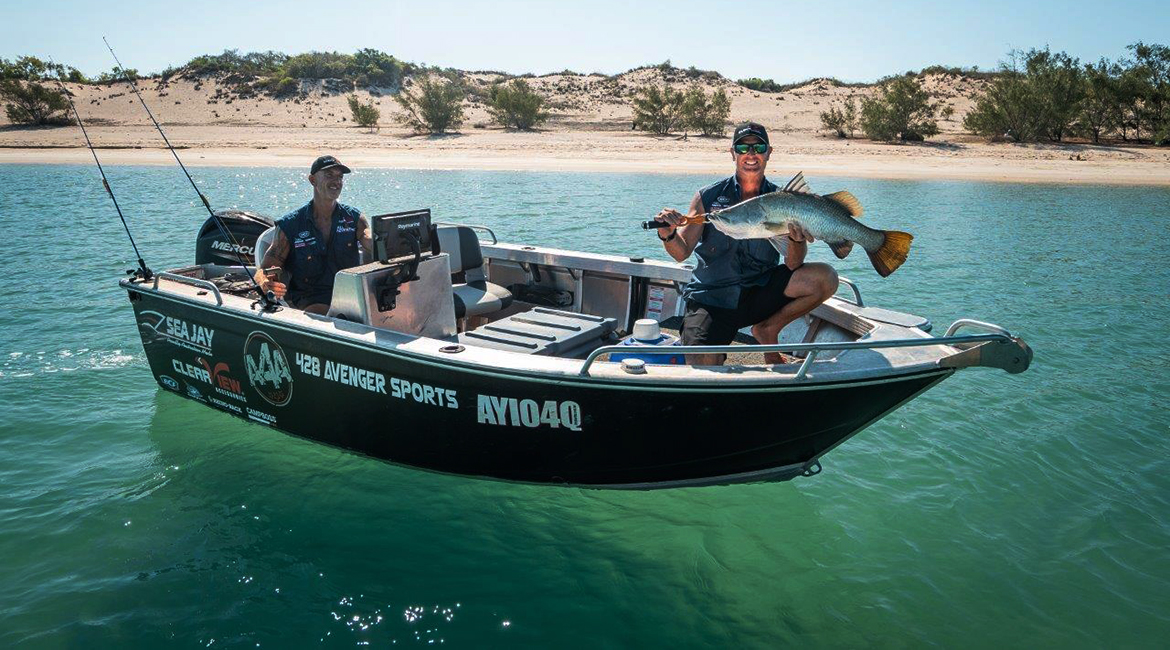 "Our new barge allows for trips into some truly remote and wild areas," Jase says. "When you're in this sort of country, there's no room for error. The Raymarine gear we've installed on this vessel means I can safely navigate to places that very few people – myself included – have ever been to.
"For instance, the peace of mind offered by the Quantum Q24D Doppler Radar when travelling in low light conditions is a real game changer when it comes to exploring new and potentially risky waters.
"Team that with the superior sonar and chartplotting performance of the Axiom Pros, and the convenience offered by the Evolution Autopilot, and the end result is we can travel safely into places which would otherwise be off limits."
Apart from the thrill of exploration, Jase and his crew know that the fishing in these unspoilt and remote waters can be incredible. It's no surprise then that the All 4 Adventure Sea Jay 4.28 Avenger tinny is set up with a powerful and reliable Raymarine Element 9 HV sounder.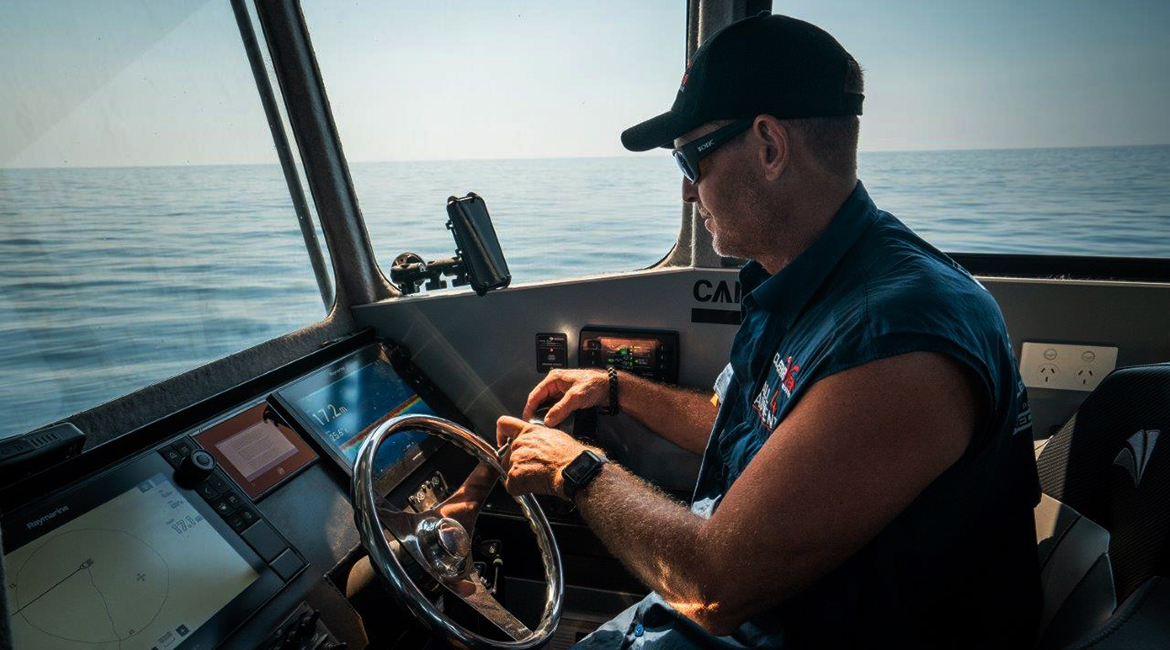 "We get to go to some pretty awesome places so we want to make the most of it when we're there," Jase says.
"The incredible detail and clarity provided by the Raymarine Element gives us the upper hand when it comes to finding fish and fish-holding structure.
"The Element's Hyper Vision technology provides us with the ability to quickly and easily find and target the most productive areas, giving us the best possible chance at success."
Raymarine is delighted to again provide Jase and the team at All 4 Adventure with Raymarine technology. These guys fish hard in unforgiving and remote locations and it's great to see that they've again chosen Raymarine.
Series 13 of All 4 Adventure is currently airing across Australia on the 10 Network. For screening times and details on how to watch previous episodes, go to www.all4adventure.com
Find out more about Raymarine's products, including Axiom Pro, Quantum Doppler Radar, Evolution Autopilot and Element Sonar/GPS at www.raymarine.com.au