Australian Sailing has welcomed the news of Kieren Perkins OAM's appointment as CEO of Sport Australia earlier today.
Perkins, a three-time Olympian and two-time Gold Medallist, will join the organisation from Swimming Australia where he is the current President. Prior to that he had and an extensive career in the banking sector, most notably with the National Australia Bank.
"We are delighted to hear of Kieren's appointment, and we are looking forward to working with him to advance our sport from the grassroots up," said Australian Sailing President Daniel Belcher.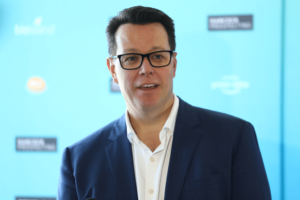 "This is a critical time for sailing, as we are about to deliver our new strategic plan which will aim to support growth in participation and membership at our clubs. We are also looking forward to ensuing the repeatable and sustainable success of our Australian Sailing Team athletes in the lead-up to not just Paris 2024, but Los Angeles 28 and a home Games in Brisbane in 2032."
On the appointment of Perkins as CEO, Sport Australia's Chair Josephine Sukkar said: "The ASC is delighted to welcome someone of the calibre of Kieren Perkins to this important role leading Australian sport."
"We are entering one of the most exciting decades in Australian sport and Kieren is the right person to lead the ASC on this journey."
Mr Perkins said he was excited to be stepping into the role of CEO at the ASC.
"I could not be more thrilled and honoured to be appointed to lead the ASC as Australian sport looks forward to the 2032 Brisbane Olympic and Paralympic Games," said Mr Perkins.
"As an athlete and administrator, I have lived the importance of a symbiotic sport system that has strong grass roots participation, underpinned by volunteerism, helping uncover and develop the ambitious talent that will represent our country on the world's biggest stages."
Australian Sailing CEO credited outgoing Interim CEO Rob Dalton, who is scheduled to see out his contract to 31 December.
"Rob helped navigate Sport Australia through the impacts of the COVID-19 pandemic on participation, but also the successes of our high performance teams at the postponed Tokyo 2020 Olympic Games."