Minister for Emergency Services Steph Cooke today welcomed the newest addition to the Marine Rescue NSW fleet – a $329,000 rescue vessel to bolster boating safety at Merimbula on the NSW far South Coast.
Ms Cooke said the new Marine Rescue Merimbula 20 vessel was one of 38 rescue boats funded thanks to a record $37.6 million, four-year State Government investment to support the life-saving work of Marine Rescue NSW volunteers.
"The NSW Government is delighted to support our emergency services volunteers, and to ensure they have the resources and equipment required for their vital work to protect and assist our community," she said.
"This wonderful new rescue vessel is a great asset not only for the Merimbula unit's volunteers but also to the boaters on the far South Coast of the state who flock to the area over the summer holiday break.
"A 6.8 metre split console Naiad, with twin 140 HP Suzuki engines and a top speed of 37 knots, Merimbula 20 has the power and reliability to ensure that when every minute counts, the unit's crews can be on the scene of an emergency more rapidly than ever."
Member for Bega Andrew Constance said that the new rescue vessel would complement the new Marine Rescue Eden vessel that was expected to become operational in January.
"With this new vessel and the additional rescue vessel at Eden, boaters on the South Coast can have confidence that in an emergency, help is close at hand," he said.
"Enhancing our local emergency response capability is great news for the large number of local and visiting boaters here on our coastline, particularly over the very busy summer period."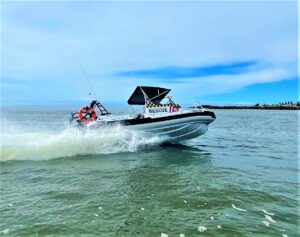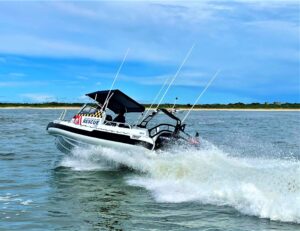 Marine Rescue Commissioner Stacey Tannos thanked the State Government and the boating community for their generous financial support for Marine Rescue NSW.
"With this support we are able to deliver our volunteers modern, safe and reliable boats like this one, purpose-built to meet local operating conditions both on Merimbula's lake and up to 15 nautical miles out to sea," Mr Tannos said.
"Merimbula 20 is easily hitched to a trailer, allowing it to be towed to wherever it is required in an emergency, giving our members more flexibility than ever."
Built by Yamba Welding & Engineering on the NSW North Coast, Merimbula 20 has some of  the latest search and rescue technology, and with greater manoeuvrability and endurance, rescue crews will be able to search for longer.
Unit Commander Sonia Teston said the boat's faster acceleration, greater range and smoother passage would greatly enhance their ability to respond to emergencies on the water.
"This new boat has arrived just in time for our busiest week of the year between Christmas and New Year, and will be a great boost to our ability to respond quickly and safely to emergencies," she said.
"It is more robust than our previous boat and has greater endurance, which means we can operate more safely for longer periods and in a wider range of weather and sea conditions on local lakes and offshore."