YKnot Fishing Charters' Charlesy Vears believes that his Mercury powered charters are the fastest in the Northern Territory.
"And if we're not then I'll have to buy another Mercury engine to put on the back – to make sure we are," Charlesy said.
YKnot Fishing Charters operates out of Australia's Northern Territory, setting out of Darwin and Dundee Beach in search for anything blue water.
It's a company owned by Charlesy and Rachel Vears that has grown hugely in popularity since its inception in March 2019.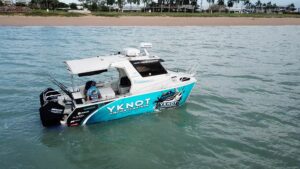 The Knot Guilty is a 7.5m Sailfish that can cater for six guests and two crew comfortably on a full-day chartering adventure. It's powered by twin 3.4L V6 200hp SeaPro Outboards – giving the beast a cruising speed of 25-30 knots and a top speed of 45 knots.
For Charlesy it's the speed of the engines combining
with the reliability, 2+1 = 3-year Commercial Warranty, fuel efficiency and quietness that makes Mercury an unbeatable outboard.
"I've been so impressed by our Mercury engines – I can't actually see myself using any other brand from now on," Charlesy said.
"We run seven days a week, ten months a year – reliability is paramount in my engines. I've got my wife and children depending on me to run my business, and usually at least six people per day depending on me to run a charter.
"The SeaPro engines easily carry six people on board, and given that they're engineered for commercial application they're durable at a low cost of operation.
"The Active Trim electronic controls make the ride of the boat enjoyable for the passengers and relaxing for me – plus it helps me save fuel when the boat sits at the right levels.
"I can't fault any aspect of my 200hp Mercury SeaPro engines."
When Charlesy first bought the Knot Guilty in 2019, it was powered by twin 150hps – and their performance was enough to convince Charlesy to go for a slightly upgraded option.
"Dealing with Precision Marine Darwin and Mercury Marine meant the process of repowering the boat from the 150hps to the 200hp SeaPro engines was smooth and easy sailing," Charlesy said.
"I bought the new engines because I knew that I could rely on them – so having the addition of warranty would add an extra layer of reassurance.
"The teams at Precision and Mercury are passionate fishers and boaters who want to make sure you have the best experience, and I can safely say that I have."
It's a sentiment shared by Mercury Marine's Regional Sales Manager Ian Stanley.
"I've had the pleasure of going on a charter with Yknot and what stood out to me was Charlesy's genuine devotion to the business – it made the trip one to remember," Ian said.
"YKnot Fishing Charters are a family-owned business, with a family-oriented ethos. Charlesy looks after his crew and passengers and has a focus on making sure everyone has a great time – no matter their fishing ability.
"The new SeaPro outboards have great fuel economy, which means that Knot Guilty can cruise further and for longer – the engines are also nice and quiet which is great for the customers and crew."
Charlesy is now looking forward to repowering his new vessel Knot Stoppin' with twin 4.6L 300hp V8 SeaPro Outboards in the new year – planning to continue his legacy as the speediest charter in the NT.