Boating technology startup Deckee has announced it has closed a Pre-Series A funding round in just six days, on the back of reporting 500% growth in users over the past 12 months as interest in the boating lifestyle surges around the world in the wake of Covid-19.
Founded by Australian entrepreneur Mike McKiernan, the company has pioneered an operations and data platform which can help any organisation with a stake in the waterways improve their community engagement, planning, decision-making, and help modernise public safety strategies.
Deckee is also the maker of a leading boating app, which is now used by over 220,000 boaters.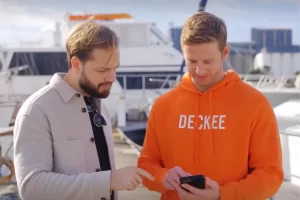 The Deckee mobile app is officially endorsed by partnering governments and organisations as an official tool and resource for public safety.
Mr McKiernan said that the new funding and imminent Series A round would be used to help Deckee accelerate the growth of its international boating community and onboard more government partners in order to reverse a concerning global trend.
"We are currently seeing worldwide boat sales reaching record 13-year highs, however accidents and fatalities on the water have also been increasing at an alarming rate. More people taking to the water is creating more risk, and we need to accelerate and innovate the technology and strategies which are used to mitigate it," said Mr McKiernan.
"A huge information problem exists on the water right now. Boaters need better tools to stay aware and informed, and for the government agencies tasked with managing the safety of the waterways, it is a bit like working with a search engine limited to a few queries per year. They don't have the visibility and communication channels they need to really move the needle."
In preparation for the upcoming Series A round, Deckee recently unveiled its Board of Directors, with telecommunications entrepreneur Chris Deere, and serial founder Alex Retzlaff, both throwing their support behind the company. Deckee also shared that Mark Gainey, Co-Founder and Chairman of Strava, the world's largest fitness activity app, had come on board as a formal Advisor to assist with Deckee's international growth.
Mr McKiernan said that to aid with expansion, Deckee will be the Premier Sponsor of the International Boating and Water Safety Summit in Washington D.C in March, 2022. The conference is attended by regulators, educators and government officials from around the world.
"For decades, water safety strategies and government decision-making has been informed by periodic census surveys and reports based around lagging indicators. With Deckee, the software upgrade for the waterways has arrived, and it's opening up a new world of possibilities to keep the public safer and more informed on the water," Mr McKiernan said.