The Boating Industry Association (BIA) has thanked members who joined the Department of Transport RVSA Trailers webinar on 9 December. The webinar video is now available along with access to the presentation slides for those unable to attend, as well as to provide back-up information for those who did.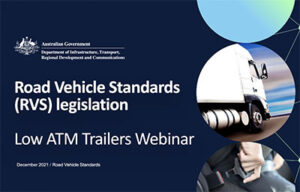 The webinar covered the legislative requirements relating to low ATM trailers, including transitional arrangements, the two approval pathways — concessional RAV entry and vehicle type approvals — and eligibility requirements.
Component type approvals and use of the ROVER online applications and approvals portal was also discussed.
BIA reminds members who manufacture, assemble or import trailers of the need to be able to demonstrate compliance with the RVSA requirements by end June 2022. Further information is available here.