By Mark Rothfield
If every underdog has its day, today was it at the Red Pumps 16ft Skiff Australian Championships being hosted by Belmont 16s, with unheralded local boat Domino's delivering a 1-2 punch to be boat of the day and the new series leader.
SailGP stars Nathan Outteridge, Tom Slingsby and Iain Jensen also showed that form is temporary but class is permanent. They came to the regatta yesterday, saw how it's done, then conquered Race 3. They've now moved into fourth place overall aboard Fluid, after overnight leaders Moonen Yachts (Daniel Turner) and Ronstan (Nathan Wilmot) had quiet days at the office by their lofty standards.
Ronstan posted two fourths in today's double-header but was caught out several times by the shifty 12-15 knot breeze, while Moonen managed a 5th and 6th – certainly not a disaster with three races down and six to go.
But today definitely belonged to Domino's, who is yet to win even a club championship race in their new skiff. Skipper Michael Quirk, with nephew Thomas Steenson as for'ardhand and Dallas Dawson on the sheet, was rapt with the performance against arguably one of the strongest ever 16s fleets.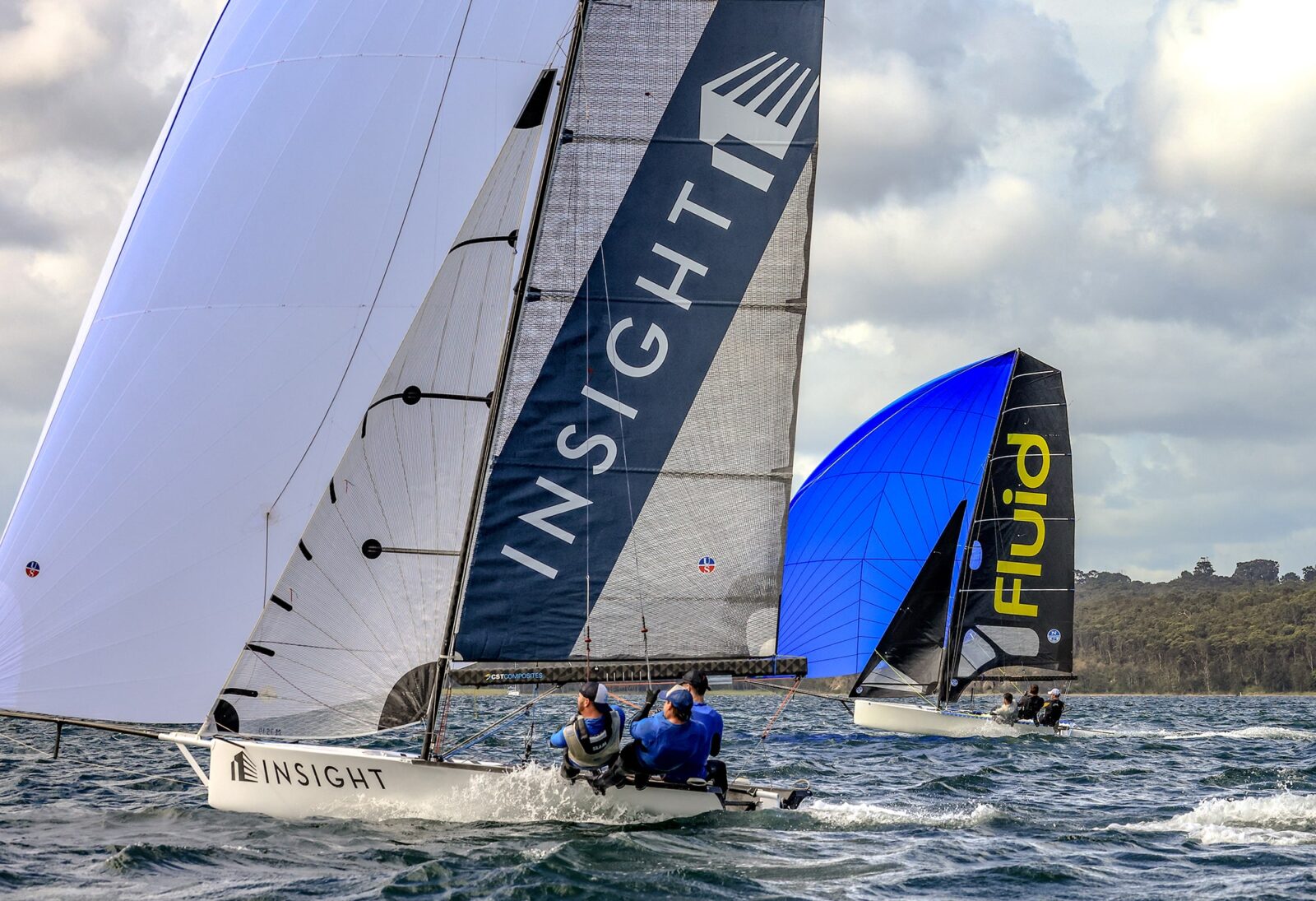 Insight and Fluid. Pic Michael Chittenden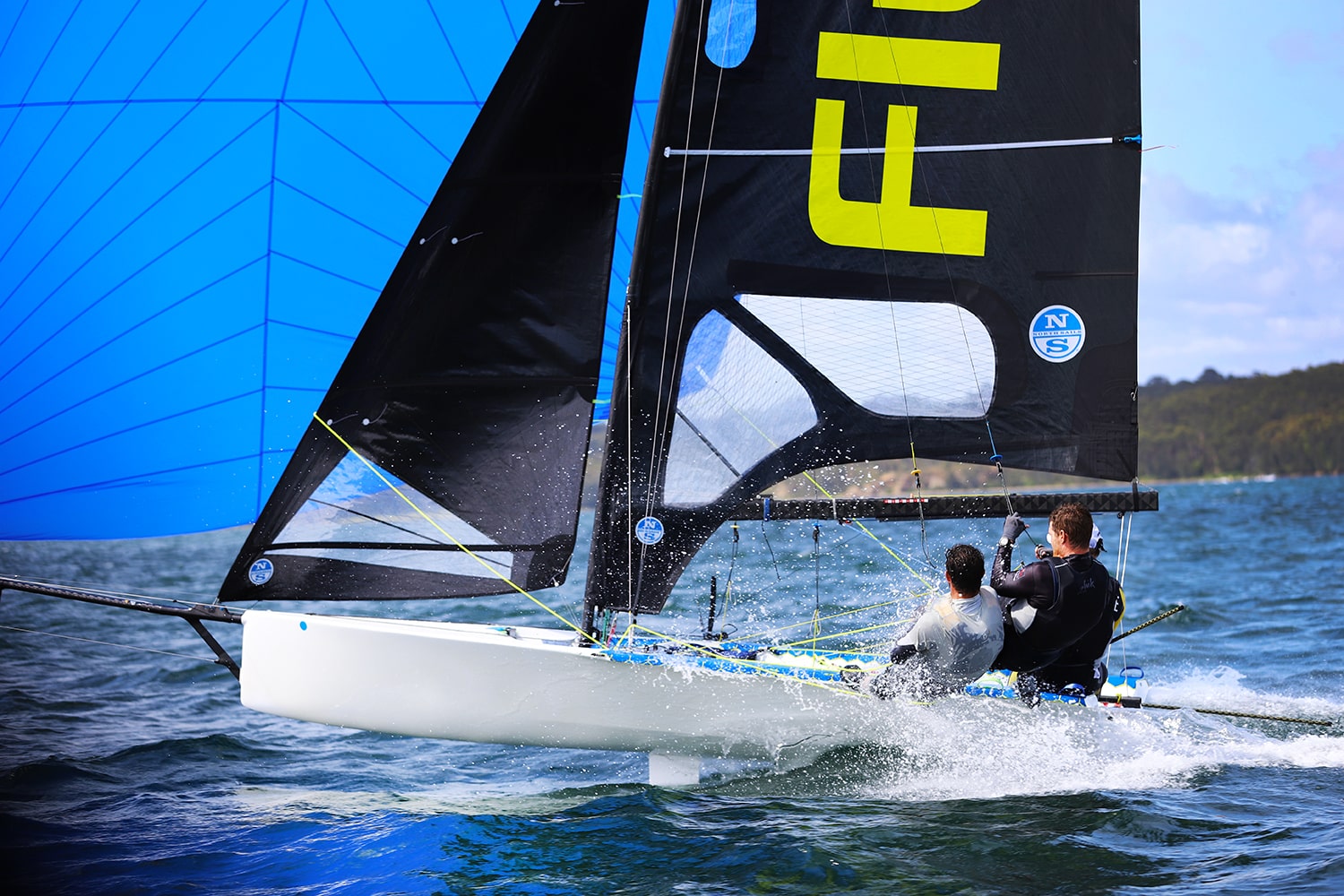 Fluid. Pic Mark Rothfield
Asked whether they'd been dining on their sponsor's product, a bemused Quirk simply laughed.
"We're shocked, we're stoked," he said. "We got two good starts and the boat was just fast. We'll get some confidence out of this – we've been chipping away and just haven't been able to put it together. It's great that we've finally been able to do that."
In Race 2, Brydens led at the first top mark from Domino's, with the rest tightly packed. The order was Brydens, Moonen and Domino's next time around, then Domino's made its move on the final upwind leg – employing local knowledge to hit the right-hand edge of the work, then outpacing Bryden's to the finish, followed by a fast-finishing IMEI.
Race 3 got underway cleanly and this time it was Ronstan, from Insight and Fluid at the first mark. Then Fluid made its move on the last beat, outlasting Domino's and Insight for a maiden victory in the class. They came to the regatta for fun and they're certainly having that.
Tom Slingsby: "First race we were in the hunt but missed a big shift at the top mark, then we were putting out fires as things broke … we eventually got back to 11th.
"Then in Race 3 we were in the top group and on the last lap we overtook a couple of boats to get the win. Very tricky race track today – on the right you had a bit more wind, more waves, and more weed, so everyone had some up-and-down scores.
"It's a lot of fun. The boat's really technical but we're having a laugh and really enjoying sailing together for the first time ever."
It was a much better result for Belmont hopeful Insight after a 16th in race 2.
"We won't talk about the first race," skipper Rod Carter jokes. "We got buried, and with the quality out there it's really hard to punch your way through.
"In Race 3 we got off the line cleanly and we hit the lead on the second lap. Then it was a matter of covering Ronstan, but the SailGP guys on Fluid were certainly quick and got through us."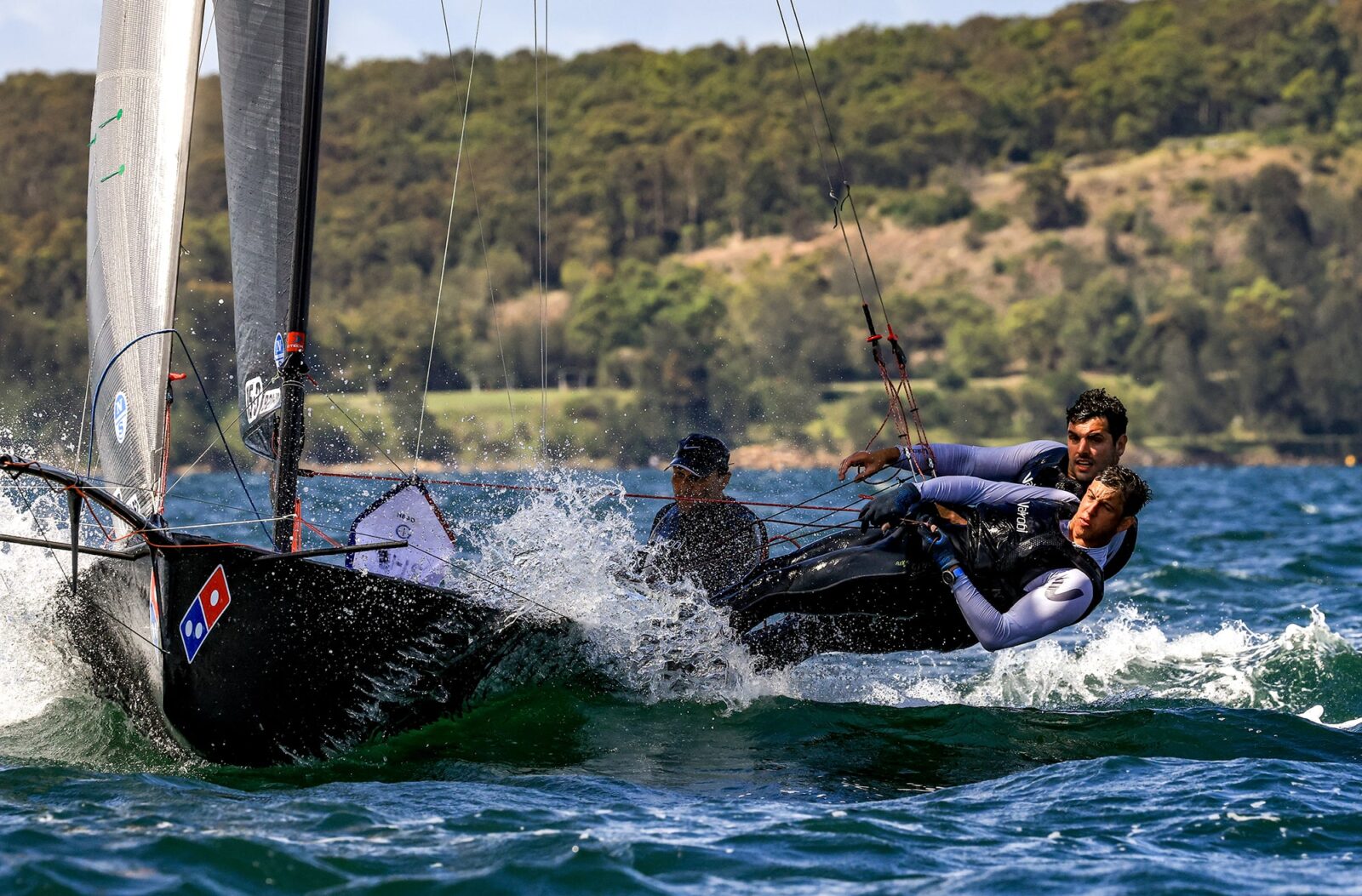 Dominos. Pic Michael Chittenden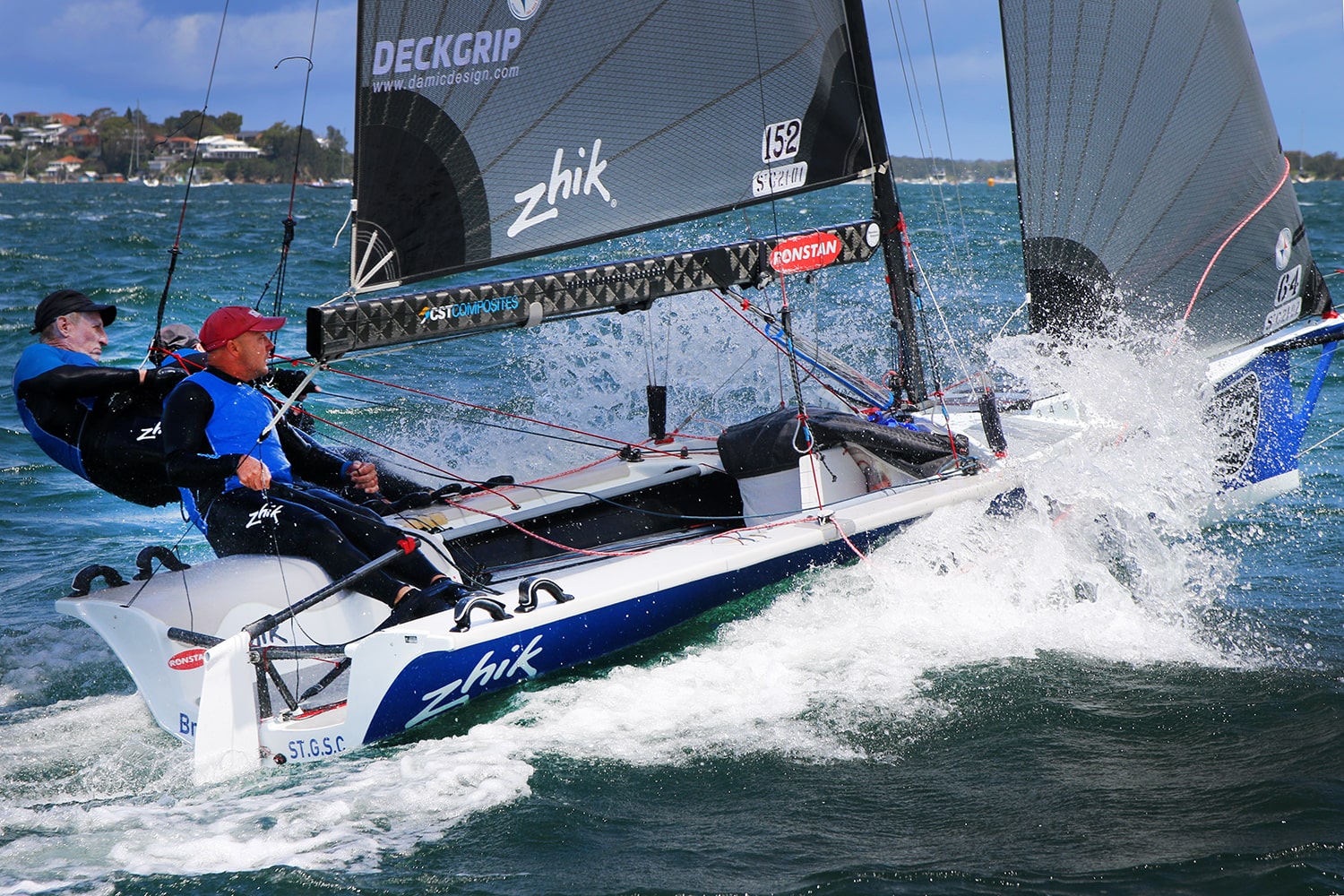 Brydens. Pic Mark Rothfield
Missing in action today was Olympic gold medallist Tom Burton, who injured his back while sailing on Sunday – Australian Sailing team member Jake Liddell took the helm of Knighton Group in his place.
Kimberly Baker on Aristocrat is the current handicap leader while Jessica Iles on Capital Brewing is the best-placed female skipper. In the 2022 Red Pumps 13ft Skiff Australian Championships, the podium placings in both races today were the same as yesterday, Cheeky stretching its lead.
Races 4 and 5 start tomorrow from1.55pm AEST. Host club for the championships, which run until January 8, is Belmont 16s.
Results: https://ty.skiffs.org.au/aus/
Event website: https://skiffs.org.au/event/2022-australian-skiff-championships/
SERIES SCORES [after Race 3]
1  Domino's  6
2  Ronstan  10
3  Moonen Yachts  12
4  Fluid  17
5  Brydens Lawyers  21
6  Insight  23
7  SKE Electrical  23
8  IMEI  26
9  Sail Racing  27
10  East Coast Marine  29