Working together, Simrad Yachting and Vizianello – a shipyard that is an historical institution of the Venetian lagoon and the Italian shipbuilding industry – have combined their skills to make the famous water limousines more performing, less impactful on the environment and therefore more suitable for navigation in the Serenissima.
After years of research, Cantieri Nautici Vizianello have offered an answer to a problem that has long affected the lagoon transport: the harmful emissions of diesel engines and noise pollution, finding a reliable partner in Simrad® electronics.
Thanks to the collaboration of these two companies, the most famous of Vizianello's water limousines Amore, chosen as an exclusive means of transport in the city of Venice by Hollywood stars, has been given a new life. This 9-meter water limousine – whose external lines remain faithful to the classic and elegant design of the mahogany taxi boats – has been equipped with a hybrid diesel-electric propulsion system managed by the Simrad® Command integration system capable of monitoring both the endothermic engine and the electric one.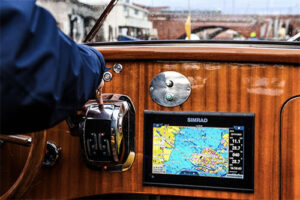 The Venetian shipyard, which has been in business for over 50 years, has also worked closely with the public transport authority and Venezia Turismo to develop eco-friendly propulsion systems to create this boat.
"We started producing the first hybrid systems in 2010, which we've modified and tested until we arrive at the present day where we install them on much smaller boats, such as the luxury Venetian tenders or water taxis," says Moreno Vizianello, CEO of the shipyard. "This was when the very important collaboration with Venezia Turismo started and, above all, with Simrad Yachting, who helped us develop systems for managing all the data."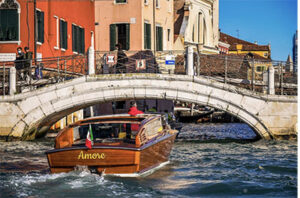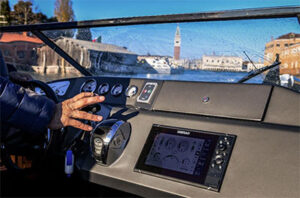 The hybrid propulsion system on-board Amore represents a true revolution for the city of Venice. The removal of noise and emissions is a great advantage for passengers, but also for the city's residents.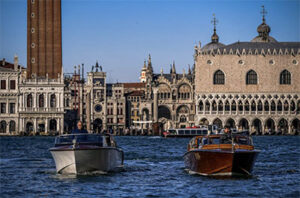 The hybrid system includes a diesel engine that can run independently or in combination with a 30kW electric motor and a 23kW battery pack. In fully electric mode, the boat has an autonomy of about one hour at 6-7 knots which allows navigation with zero emissions and no noise, ideal for short trips through the historic centre of Venezia. For longer journeys, the diesel engine automatically switches on and at the same time recharges the battery pack.
Amore is equipped with the Simrad® Command control system which, thanks to a user-friendly interface, allows the monitoring and management of on-board utilities. Command is also fully customisable, as it is possible to choose whether to integrate one or all of the boat's utilities, as is the case, for example, on Avanti, Vizianello's modern hybrid luxury water taxi, created in collaboration with the Venetian design studio Nuvolari Lenard, which features full integration of all the equipment and functions on board, from propulsion and power management to lighting and co-pilot hardware.
"The collaboration between Vizianello Shipyard and Simrad Yachting is a perfect example of how our Command system can be used to display all the information of complex systems," says Roberto Sesenna, Simrad Yachting's Country Manager in Italy. "We have integrated the on-board system of the shipyard's luxury taxis within our displays for their captains, enabling technology that can help protect the ecosystem of the Venice lagoon."