The Southport Yacht Club recently marked the opening of the country's largest floating superyacht berth as over 600 club & community members, government representatives and industry leaders gathered to celebrate the milestone event.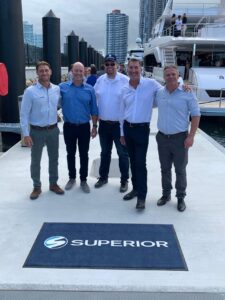 Eleven Superior Jetties built pontoons, spanning 160m to accommodate vessels up to 130m.
The development is a key part of the QLD government's Superyacht Strategy which aims to position QLD as the superyacht hub for the Asia-Pacific region.
It is a great demonstration of a successful industry – government partnership! Congratulations to the Southport Yacht Club team, City of Gold Coast, and the QLD State Government.
John Hogan and his Superior Jetties team were on hand to celebrate and should be very proud of the result! The Marina Industries Association look forward to a tour of the new berth as a apart of the Marinas22 Conference & Trade Exhibition in a few months' time.