Last week, Australian Sailing launched its landmark 10-year strategic plan, "Sailing 2032".
Sailing 2032 is a long-term vision for the sport that outlines why Australian Sailing exists, what the organisation hopes to achieve between 2022 and 2032, and how they will achieve their goals.
"Sailing is an iconic part of Australian culture and Sailing 2032 charts the future direction of sailing in Australia, ensuring our sailing community continues to thrive," said Australian Sailing President Daniel Belcher.
"We passionately believe that sailing is something that more Australians should love to do. Sailing 2032 is a plan for Australian Sailing, however critically, it is also a call to action for our sailing clubs, Discover Sailing Centres, class associations, volunteers and sailing stakeholders to embrace and align with our plan, to collectively benefit us all."
The plan details the three Strategic Pillars and six Strategic Foundations that will be the guide the governing body of sailing in Australia over the next ten years. Each Strategic Pillar is underpinned by several Strategic Projects, each with its own detailed Success Indicators.
The new Strategic Pillars include: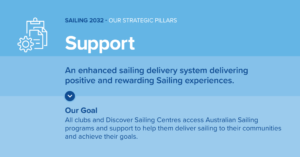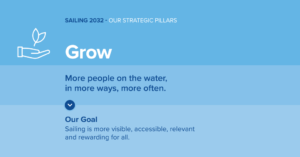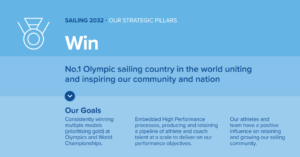 Foundation projects include a National Safety Framework, National Integrity Framework and a commitment to an Environmental Action Plan to minimise the impact sailing has on the environment.
"This plan reflects on what we have been asked to do by the clubs and sailing stakeholders," said Australian Sailing CEO Ben Houston.
"We will be reshaping the organisation to deliver this new strategy, which is designed to help clubs with retention and growing capability, growing membership and increasing participation."
Australian Sailing engaged with a range of stakeholders in the development of the plan, which included state and territory yachting associations, clubs and their members, class association representatives, volunteers, staff and Discover Sailing Centres.
The Win pillar directly reflects the mission of the Australian Sailing High Performance Strategy, "#NextLevel: Towards Paris 2024 & LA 2028" to create sustainable, repeatable success for the Australian Sailing Team. What will not change is that no club or member affiliation fees are used to fund any part of Australian Sailing's High Performance programs, with 100% of their funding derived from government grants and the generosity of our partners and patrons.
"Our Purpose is to grow sailing by leading, inspiring, and supporting sailors and their communities," concluded Belcher.
"We will know we are winning when we see more people on the water, in more ways, more often."
The strategy will be presented in full at this year's Club Conferences, with details of the 2022 events to be released shortly.
To view the full strategic plan, click below:
Australian Sailing Strategic Report 2022-2032