A celebration for the Murray Bridge and District's State Emergency Services was underway last week in order to commemorate the 50th anniversary of the Murray Bridge Bunyip.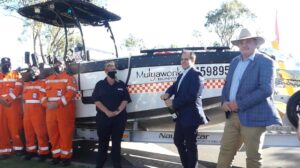 A new marine rescue vessel was revealed by the Member for Hartley, Vincent Tarzia, as a part of the celebration.
Named 'Multawonk' (the Ngarrindjeri word for Bunyip), the state of the art vessel was built by local South Australian company Nautic Star and will boost rescue capability for the local area.