Three projects, worth a combined total of almost $23 million in contracts, will soon improve boat launching options in central and northern Queensland.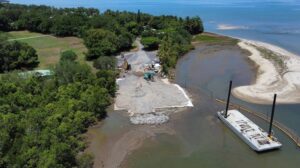 Inkerman Creek boat ramp
MSQ recently awarded a $3.34 million contract to Queensland based company Australian Marine and Civil Pty Ltd to construct a new boat ramp at Inkerman Creek. Gladstone Ports Corporation and Rockhampton Regional Council are contributing funding to the project.
The completed facility should further open up recreational fishing tourism products in the Fitzroy Delta and Southern Keppel Bay, bringing more tourist dollars into the region.
Stage one of the project will see tidal land reclaimed and a road intersection constructed at the Inkerman Creek site.
Following this, there will be a pre-loading period of approximately 12-15 months to allow the reclamation area to settle ready for construction.
Stage two will then include construction of a new single lane boat ramp and car-trailer parking area.
Construction is to be completed in early 2023, weather permitting.
Newell Beach Boat Ramp
In early September MSQ awarded a $2.1 million contract to Australian Marine and Civil to build the new facility.
Onsite works for the new facility started in late September (as shown in our photo above) and are progressing well.
The facility will feature:
A new two-lane boat ramp with a central fixed walkway
A fishing platform
A short-excavated channel to provide all-tide access
A fixed walkway was chosen for Newell Beach because it best suits the conditions at the location.
This is primarily because of its wave exposure in prevailing winds, but also because fixed walkways can best withstand Far North Queensland's severe weather events.
Completion is due in mid-2022, weather permitting.
Yorkeys Knob boat ramp
Jointly funded with Cairns Regional Council, the new boat ramp to be built at Yorkeys Knob is a massive undertaking.
It was designed after extensive consultation with Council, the Yorkeys Knob Boating Club, Half Moon Bay Golf Club and Yorkeys Knob residents, businesses and local boaties.
It will feature a six-lane boat ramp, three floating walkways and two breakwaters, supporting about 40 jobs throughout the life of the project.
The onshore facilities will include 135 car-trailer parks, 63 standard car parks, six accessible (disabled) parking spaces and a new toilet block.
It is a much-needed facility for the popular northern beaches area of Cairns and will improve safety, reduce wait times for launching and retrieving boats and provide more parking capacity.
In early November MSQ awarded a $17.5 million construction contract to Queensland-based company Hall Contracting to complete the project.
Offsite works have commenced, with onsite works expected to begin in January 2022.
Completion is planned for late 2022, weather permitting.