Calmer waters are on the horizon for the Port of Eden with construction underway to build a wave attenuator on the NSW far south coast.
The Eden Safe Harbour Project started in November 2021 and will see a 366-metre-long fixed panel wave attenuator constructed towards the inlet at Snug Cove, between the two mooring jetties.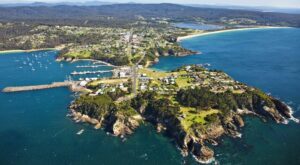 NSW Maritime Executive Director Mark Hutchings said the structure will calm wave activity and help to protect local and visiting vessels and existing maritime infrastructure. "The Port of Eden is a working harbour and improving its safety will help enhance the site as a vibrant economic and tourist precinct," Mr Hutchings said.
"The design of the wave wall considered stakeholder consultation, site-specific weather and geotechnical conditions along with specialist engineering studies and expert advice.
"This month, locals will see the arrival of prefabricated materials, land and marine site establishment and the mobilisation of some temporary traffic controls for the safety of motorists, pedestrians and workers around Snug Cove."
Restricted work zones will be established with clearly marked buoys, or fences for landbased operations. The Marine Facility carpark and boat ramp, west of the Mooring Jetty, is now closed and will reopen when the project is completed.
Two purpose-build heavy duty jack-up barges will be used to construct the wave wall along with other equipment including dumb barges, tugs, cranes and piling hammers.
"The Port of Eden is a busy area and we know it's important other water users can continue with their normal operations as works ramp up," Mr Hutchings said.
"We will have marine mammal observers on site during piling to stop work if any whales or dolphins come near our operations in Twofold Bay.
"Construction of the wave wall is expected to be complete in late 2022 and we thank the community for their patience during this important work."
Work hours will be between 7am and 6pm from Monday to Friday and 8am to 1pm on Saturdays, weather and tides permitting.
Transport for NSW will help reduce noise from the work by turning off machines and vehicles when they are not being used.
Residents can let Transport for NSW know how they would like to stay up to date on the project by completing a survey at http://nswroads.work/edenengagement or by calling 1800 497 190 during business hours.
For more information on the project visit https://nswroads.work/eden-safe-harbour.