Entries are open for the 2022 Australian Yachting Championships to be held on 21st – 27th August at Hamilton Island Race Week.
Following the cancellation of the 2021 Australian Yachting Championships, Australian Sailing is elated for the regatta to return to Hamilton Island this year.
The 2022 Australian Yachting Championships at Hamilton Island Race Week is a firm fixture on the sailing calendar.
Matt Allen's Ichi Ban has won the past three IRC Division 1 Australian Yachting Championships and following their recent win at the 2022 Adelaide to Port Lincoln race, Ichi Ban is expected to be a strong contender at the Australian Yachting Championships this year.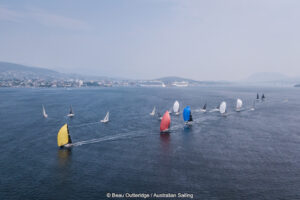 The Notice of Race outlines that "the fleet for Hamilton Island Race Week 2022 may be capped depending on relevant COVID restrictions at the time and berthage availability. Entrants are reminded to be prompt in getting an entry in to avoid disappointment."
Hamilton Island Race Week is considered one of Australia's premier offshore keelboat regattas, which is anticipated to provide another year of offshore action for 2022.
Entries are not deemed live until the entry fee is paid in full. With 115 registrations already, the regatta is likely to limit entries within two weeks. Hamilton Island only has a limited number of berths available.
Register for the upcoming 2022 Australian Yachting Championships via this link.