Marine and Safety Tasmania (MAST) work year-round to help boaties better enjoy their time on the water.   Here are some updates from the Apple Isle.
The Summer Season
Summer has come and gone, but Autumn is still a great time to go boating – often better than summer, with more settled weather.
Looking at Marine Traffic, the number of boats with AIS is rising considerably.  The West Coast has seen many visitors to Port Davey and Macquarie Harbour over the last few weeks. Up North there has been a lot of traffic in and out of the Tamar and the Flinders group, as far north as Deal Island.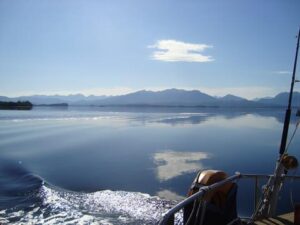 The Channel and East Coast to St Helens has also been busy despite a fair amount of easterly weather. It is always interesting to see what boats are out and about with AIS. The number of mainland boats visiting has increased and we have also had a couple of solo sailors in Hobart after sailing from South Africa.   Peter Smith, on board Kiwi Roa, arrived in Hobart on Wednesday. It's worth reading his website https://www.petersmith.net.nz/about/kiwiroa.php
His passages have been remarkable. Peter also designed the well-known Rocna anchor, used by so many boats worldwide.
Infrastructure Upgrades
Work has now commenced on the long-awaited extension at Bicheno. Work on lengthening both walkways will take around a month, therefore only one lane will be available for certain periods.
A new navigation mark will be placed on the reef at the western end of Conningham Beach. This was previously marked by a home-made steel picket. The mark will be a north cardinal.
The Cygnet jetty is nearing completion. The location is slightly south of the existing jetty near the boat ramp. Tasports is close to starting the new "mini" marina at Stanley boat harbour, a project initiated by MAST and the Circular Head Community. MAST has provided funding through a Grant Deed to the George Town Council to upgrade the breakwater at Weymouth in the north east. MAST has also been discussing issues raised by users of ramps at Corinna, Eddystone Point and Tomahawk.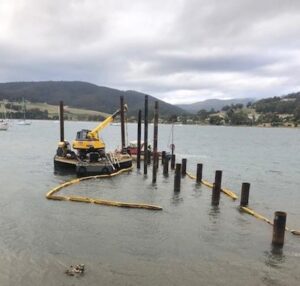 Paddlers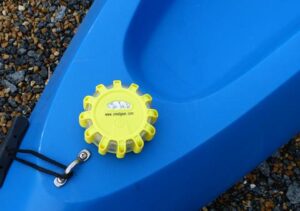 A reminder to all the paddlers who go out between sunset and sunrise. Days are drawing in quickly – please ensure you are lit up correctly so you can be seen. Remember, red flashing bike lights are not permitted. We have seen some attached to the front of paddlers but these cannot be seen from behind.
You must have an all-round white strobe light or fixed white light. Rowing shells must have a white strobe light on the bow and fixed white light on the stern.
Safety Equipment
On behalf of the Australian Recreational Boating Safety Committee (ARBSC), MAST has completed a proposal to develop an Australian Standard applicable to Electronic Visual Distress Signals (EVDS). The proposal has been submitted to Standards Australia for consideration.
MAST is hopeful a Standard can be developed along the lines of the US Coast Guard Standard. More news of this development will be relayed via Boatwise and e-newsletters.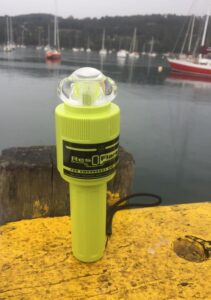 A review of the life jacket Standard has also recently been completed. This will not affect any life jackets you currently have, however, from 2023 manufacturers will be required to make life jackets that comply with the following:
All manufacturers will need to be consistent with their markings on inflatable life jackets;
In order to pass the Standard, inflatables over Level 150 will need to be tested with people wearing clothes as opposed to bathers;
All inflatables over Level 150 will have a crotch strap built in at point of manufacture;
CO2 cylinders will need to have two manual activations to release them;
All inflatables will have a consistent servicing period.
These changes were initiated by MAST through the ARBSC. MAST feels these changes will make inflatables safer in the future for all boaters.
Again, you don't need to do anything with your existing life jackets – the changes are for inflatables being manufactured from 2023.
School Education Program
Ian Ross and Felicity Allison have been busy with the ever-increasing school program state-wide.  Felicity has developed work books for grades 3-4 and 5-6 and a Reader for Prep children. Felicity's work meets the curriculum standards and has been developed in collaboration with the Department of Education.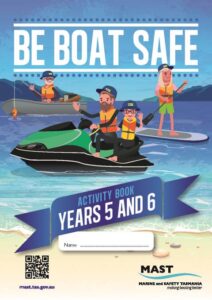 In addition, MAST is growing the school program in Independent and Catholic schools. MAST is now working on developing resources for Grade 9 students. The school program has been an outstanding success, with 40 schools already booked so far this year.
This is in addition to the Boatsafe component in the Grades 3, 4 and 5 Swimming and Water Safety program. As a result, in excess of 20,000 children were exposed to boating safety programs last year.
Moorings
Mooring audits continue around the state. MAST staff are currently auditing Macquarie Harbour at Strahan. Mooring permit holders are sent notification prior to the audit requesting moorings comply with legislative requirements.
If moorings do not comply, infringement notices will be issued. All too often we see neglected moorings that can easily become a navigational issue. It is the permit holder's responsibility to keep moorings in good condition.
As a result of our audits, generally 30% of moorings are deemed non-compliant, but in some areas this can be far higher. Unfortunately there appears to be a pattern of behaviour with the same moorings identified as non-compliant on a regular basis. These recidivists will receive an infringement notice.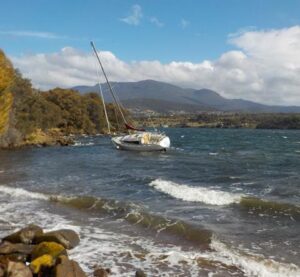 PWC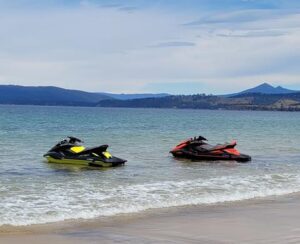 MAST will shortly be sending emails to PWC operators asking if they would like to receive a PWC-specific newsletter twice a year via email. The bulletin would feature articles on safe riding, maintenance issues and general PWC-related topics. Keep your eyes out for the subscriber registration process. We will also have a related story in Boatwise, which is due out in May.