Marine Safety Officers focus on lifejacket wear and speeding
Marine Safety Officers (MSOs) will be spreading the safe boating message over the Easter and school holiday period with regular patrols across metropolitan and regional coastal waters, and along the Murray River.
Over Easter there will be a strong presence on the Murray River where MSOs will be checking people are wearing the right lifejackets. They will also be looking out for boats speeding and operating unsafely.
If you have any boating safety questions come up and ask them.
River Safety Day
Come and see the Marine Safety SA team at the Royal Life Saving South Australia annual River Safety Day on 23 April between 9 am and 12 noon.
Our Marine Safety Officers (MSOs) will be at Bert Dix Memorial Park in Paringa with one of our Marine Safety SA boats on display. MSO's will be able to answer all your boating safety questions.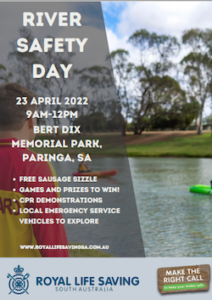 What is the most common expiation?
Our Marine Safety Officers patrol South Australian waters to help ensure recreational boaters are boating safely. The top five compliance issues for recreational boaters over the last 12 months were:
flares being expired or not carrying them
not wearing or carrying lifejackets
failure to carry the correct safety equipment (one to two items)
vessels being unregistered
speeding.
Visit the Marine Safety SA website to make sure you have the right safety equipment on board for the type of vessel you are using and the waters you are operating on, or risk an expiation.
Webcams can help see the weather conditions
Our Department for Infrastructure and Transport Marine Services webcams provide views of boat ramps and waters at various coastal locations. It is a great way to see what the weather is looking like at the boat ramp before heading there with your boat this Easter and holiday period. Remember to always check BOM too.
The camera views are refreshed every two minutes so give you a real-time view.
Current cameras are positioned in gulf waters near the Port of Adelaide at Outer Harbor, North Haven, West Beach and O'Sullivan Beach and offshore waters to the south near Granite Island. We also share the camera at the Victor Harbor boat ramp provided by the Council.
Minimise wake and wash on the Murray River
Heading to the Murray River this Easter? The video above reminds you to minimise your wake and wash and share the river safely with all users.
Think about other users including other boats, swimmers, and people using non-powered vessels such as kayaks and paddleboards. Be mindful of the impact your wake and wash has on all users.
Move away from busy areas and find your own stretch of the Murray River. Keep your distance from the shore and stay to the right side of the river.
The river is everyone's playground. Stay safe on the water. #MurrayRiverLife
Is your boat seaworthy?
A recent sinking of a boat at a wharf pictured showed the importance of servicing and checking your boat regularly. Luckily, in this case, the owner was not on board and the boat was not out to sea when it sunk.
Boat owners and skippers must make sure their boat is seaworthy and passengers are kept safe. Some tips to help you check your boat is seaworthy are available here.
Using an unseaworthy boat is an offence and the owner or skipper may be prosecuted. Department for Infrastructure and Transport Marine Safety Officers or an authorised person may direct the responsible person to retrieve an unseaworthy boat and fix any deficiencies before using it again.
Always check the weather
The weather forecast is currently great for Easter. Please remember conditions can change rapidly. Always check the latest weather report for the area you plan to boat in. If in doubt, don't go out. When out on the water keep a watch for signs of approaching bad weather, including wind, swell and the build-up of cloud formations. Keeping an eye out will help you decide whether to head back home or find somewhere safe to shelter.
You can stay up to date by downloading the BOM weather app which is free and available from the Apple App Store or Google Play. It includes a range of marine features.