A chance school excursion to the Mariner Cruisers factory in Sydney's Northern Beaches in 1978 started a lifelong career in the marine sector for Maritimo's Mark Lubke.
"We went to the factory with the school and that led to two apprenticeships being made available and I was lucky enough to get employed as an apprentice ship and boat builder," he said.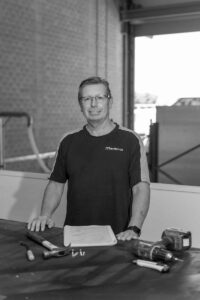 "I had always had a love of boats and boating and my dad Bill had boats and would take us skiing at weekends and on holidays.
"He was the Commodore of the Royal Motor yacht Club Newport for seven years."
Mark stayed with Mariner for 10 years, after Maritimo's founder Bill Barry-Cotter sold it, and he was still there when Barry-Cotter bought the company back again around 1988.
After a stint out of the industry he moved to the Gold Coast in 2005 starting with Maritimo working on the plug for the new Maritimo 52 before moving to fit out to work on what was the flagship at the time, the Maritimo 60. As a ship and boat builder Mark was heavily involved in the launch and build of one of Maritimo's most successful models, the Maritimo 48, which saw more than 100 vessels built for owners around the globe.
"In our busiest year we did 48 of that model and I was involved in the Research and Development which was great," he said.
"I was there in fit out two when we built the last one. "We had the whole process down to a fine art and it was one of our most efficient models to build."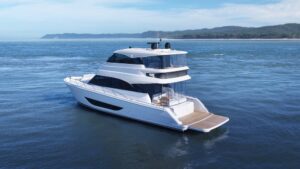 Mark said the 48 has a special place in his heart and of the new generation of Maritimo's he loves the M55.
A stickler for detail and uncompromising drive for quality Mark is now the head of the dashboard shop being responsible for all the handmade dash consoles for every Maritimo that is crafted.
Taking approximately 100 hours per unit Mark carefully makes each one hand bending the timber hood around the top of each dash and working with the other trades involved such as electronics to make sure the finished product is a work of art.
"I make sure that the manufacturing process for each dash takes into account the various elements involved such as the steering shroud, the electronics, the leather covering and the final fit out so that the process is as seamless as possible," he said.
Mark lives at Hope Island and has two daughters. He says his approach to his career is to stick to a formula and do the best that you can each day.
"Working at Maritimo is terrific, it is a super clean environment and very flexible," he said. "There is never a drama if you need to take some time off to do something provided you get your job done and everything flows," he said.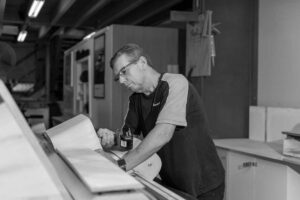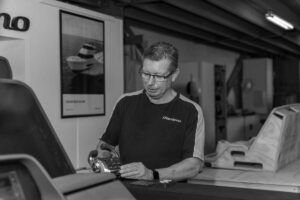 Working on the dashboards by himself Mark occasionally has an apprentice allocated to him. "I always tell them attention to detail and an eye for quality are the key," he said.
"I tell them about my background and how it all started back at Mariner and then advise them that if they have a passion for boats and the marine sector Maritimo is the place to be and provides an excellent career pathway."
Maritimo's General Manager, Phil Candler, said the company placed a great deal of importance on meeting and exceeding customer expectations and Mark was a very important element in that process.
"He doesn't miss a thing and has a great eye for detail.
"Mark is extremely methodical, which is exactly what we need in that role within Maritimo.
Maritimo is one of the Gold Coast's largest employers with more than 260 staff. The company has forward orders for its motor yachts stretching into late 2024, and 2025 for some models.
"It is passionate, and skilled employees like Mark Lubke, that help make that future work pipeline possible.
To find out more about career opportunities at Maritimo head to our Careers page.