A new $1.2 million launch facility on the Parramatta River at Rhodes has opened.
NSW Maritime Executive Director Mark Hutchings said the facility at Uhrs Point Reserve on the western side of the Ryde Bridge will make it safer and easier to launch kayaks, canoes and other passive watercraft.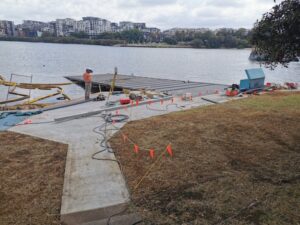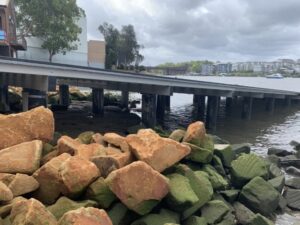 "Railings that had been used in the past to help put small craft in the water had rusted away, so it's exciting we can unveil this new project and more people can use our beautiful waterways," he said.
Transport for NSW provided $825,000 for the project under the NSW Government's Boating Now program, while the City of Canada Bay Council contributed a further $400,000.
The official opening coincided with the 100th anniversary of the 1st Yaralla Sea Scouts, who use the facilities at the reserve to educate young people on safe boating.
The DSA Dragon Boat Club will also benefit from the upgrade as they train and prepare for international competitions at the reserve's facilities. They have previously used ladders propped up against the sea wall to launch and retrieve their boats.
City of Canada Bay Mayor Angelo Tsirekas was excited to open the new craft launch facility to the public.
"Thanks to funding from the NSW Government's Boating Now program, this new craft launch facility is complete and ready to use," Mayor Tsirekas said.
"It will improve the experience of boating along the picturesque Parramatta River for locals and visitors, and launching your kayaks, canoes, and other passive water craft will now be easy and safe."
The Boating Now program, now in its fourth round, has invested in about 330 projects since it began in 2014, providing funding to improve maritime infrastructure and facilities across NSW.
Under round four, the NSW Government will also make a one-off funding contribution to help councils and other asset owners undertake minor repair and maintenance work.
"We recognise that many asset owners are currently facing financial challenges which could impact their capacity to maintain boating infrastructure, potentially restricting easy and safe access for boaters," Mr Hutchings said.
The one-off Boating Now funding will be available for maintenance work including:
Removing excessive marine growth on boat ramp surfaces,
Replacing missing or deteriorating deck planks on jetties,
Fixing loose and broken fittings such as cleats, or pot holes near boat ramps and at nearby car and boat trailer parking areas or access roads.
Further details on the Boating Asset maintenance program will be available when it's officially opened.