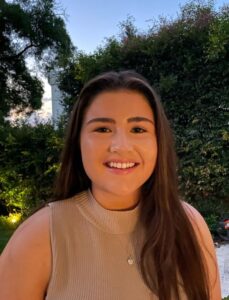 It's NSW Youth Week, when we celebrate the contribution of our youth volunteers. Today meet the second of our Youth volunteers, Sophie Baker, from the Marine Rescue Port Jackson unit.
In early 2020, university student Sophie Baker was sitting by the water with friends at a New Years' day gathering at Kiribilli watching the crowds of boats out on the water, when suddenly a NSW Police Marine Area Command vessel sped by, closely followed by one from Marine Rescue.
Sophie had not seen a Marine Rescue vessel before, and she asked a friend who they were, who told her it was a volunteer-based emergency service. Sophie was intrigued, and decided to find out more.
She hopped online, filled in an expression of interest form, and within 20 minutes had received a call from Port Jackson Unit Commander Greg Urand. Not long afterwards she found herself standing outside the unit's base at Birkenhead Point, and with a deep breath decided that she'd come this far, and she might as well give it a go – a decision she has not regretted.
"I loved it from day one", said Sophie, "everyone was so welcoming, and the crew at Port Jackson are amazing."
"I'd had no real boat experience before I joined, but everyone was so helpful, and I soon picked things up."
"Not long after I joined I spent an extended period in Melbourne.
The unit kept in touch and encouraged me to do some of the training online, and were so supportive. I'm now about to sit my Crew qualification, and I'm looking forward to getting out more on the water."
According to Sophie, being a young Marine Rescue volunteer is a real conversation starter, and people are surprised when she tells them she volunteers there.
"I really love it", Sophie said, "I'm doing things I never thought I'd get to do like driving a rescue boat and tying knots, and I'm working on my friends to get them to join up too!"
As part of her training Sophie has already spent plenty of time out on the waters of the harbour, and she gets a real buzz out of helping people.
"One recent call we had was to a party boat near the Opera House where a man had some deep lacerations. We were first on scene, and it was great to put the first aid training into effect and a real buzz to be in the centre of the action."
"Australia Day this year was really busy, and we had six assists as well as spending most of the day trying to keep boaters out of restricted areas. There was a real energy and sense of being in the centre of things, and while it was hard work, it was great helping to keep everyone safe."
Sophie says that young people interested in doing something active and for their community should definitely think about Marine Rescue as an option.
"There's a really good vibe, and even though you might be out with older people, everyone is nice and helpful, and I'd 100% recommend it!"
Find out more about becoming a volunteer for Marine Rescue NSW: https://www.marinerescuensw.com.au/become-a-volunteer/