Superyacht Australia, the peak body for the Australian Superyacht industry, is excited to announce that Fliteboard has upgraded to Platinum Membership with the association. Based in Byron Bay in northern New South Wales, Fliteboard is a globally recognised company producing the world's most highly-awarded, environmentally friendly, electric hydrofoils which are emission-free, wake free and virtually silent.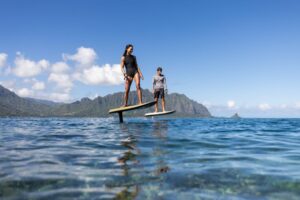 Flite now has more than 200 authorised partners selling the boards; Fliteschools across the world, and offices in three countries: Australia, The Netherlands and the United States. The company includes naval architects, product designers, mechanical, electronic and software engineers, and is focused on the intersection between electric vehicle technology and hydrofoil design. Flite has just released its latest series of upgrades, Flite Series 2.2. which melds all of its new technology into whisper-quiet rides.
The full range includes the easy riding AIR, popular and dynamic Fliteboard, adrenaline inducing PRO and the acrobatic ULTRA and setting the benchmark for latest innovations in battery technology, management, thermal control and electric marine power.
Hudson Godfrey-Smith, Global Sales Director said, "as a proudly Australian company, Flite is pleased to continue our support of Superyacht Australia. We look forward to working together as we take our innovation, design and manufacturing to the global superyacht industry."
Superyacht Australia CEO, David Good says, "We are excited to have Fliteboard increase its investment in Superyacht Australia which follows the company's recent commitment as a sponsor of the Superyacht Soiree in February and to other major forthcoming industry events, all of which are indicative of strong confidence in the future growth of the superyacht sector in Australia and globally.