The City of Rockingham has completed construction on the latest stage of the Mersey Point Granite Seawall project in Shoalwater.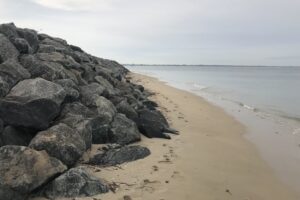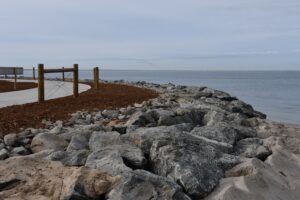 The second part of the City's coastal protection efforts at Mersey Point involved extensive work on the western end of the seawall, with construction taking place along the stretch of coastline that is located on Arcadia Drive near Pengos Café.
This part of the project involved the removal of the existing temporary limestone seawall, which was replaced with a new 100 m granite seawall at a cost of approximately $1 million.
Prior to this, the City delivered the first part of the seawall in early 2022, which is located on Arcadia Drive adjacent to Mersey Road. This stage saw the City replace the existing limestone seawall and timber beach stairs with a new 325 m granite seawall and steel beach stairs. It was built at a cost of $2.08 million and was fully funded through the Australian Government's Local Roads and Community Infrastructure Program.
Mayor Deb Hamblin said the completion of works on the Mersey Point Granite Seawall project were crucial to protecting one of the most vulnerable parts of the City's coastline.
"For more than a decade the City has closely monitored the changes occurring along the coastline in this area," Mayor Hamblin said.
"This analysis, combined with the City's Coastal Hazard and Risk Management Adaptation Plan, identified that significant action was required to preserve the coastline in the face of a growing threat posed by erosion.
"This project has supported the City's Strategic Community Plan aspiration of planning for future generations through climate change adaption.
"The new granite seawall at Mersey Point will play an integral role in protecting the Arcadia Drive road reserve and surrounding infrastructure."