ePropulsion, a global leader and market challenger in marine electric propulsion systems and services, has further expanded its original equipment manufacturer (OEM) offering with the launch of a brand-new electric inboard. The H-100 will make its world debut at this year's Electric & Hybrid Marine Expo, taking place from 21st – 23rd June, 2022 at RAI Amsterdam, and opens up even greater opportunities for boat builders to provide sustainable boating solutions.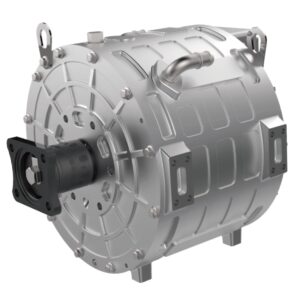 ePropulsion is focused on providing customized and pioneering services for OEMs across the world, offering fully flexible solutions for a wide range of commercial and leisure marine applications. Adaptability is a significant benefit in the company's product application with the ability to extend or shorten the length and design of hardware to fit any boat, as well as adding additional energy sources, including converting to a hybrid solution by adding sustainable resources such as solar, wind, diesel genset and fuel cell as a power source. ePropulsion also works with OEMs to control the motor using the boat manufacturer's own integrated software and IT.
The new H-100 electric inboard is an excellent example of this product adaptability that allows ePropulsion to expand its OEM capabilities. An innovative 100kw inboard motor, the H-100 is engineered for larger sailing boats and motor vessels between 60- to 100-feet with a full displacement up to 200 tons, that delivers high performance with less noise, fewer vibrations and zero exhaust fumes. Suitable for large sailing yachts, catamarans, small passenger ferries and trip boats, commercial workboats and large inland cruisers or barges, the drive system can be straight to propellor, stern drive, sail drive or Azimuth thruster.
The modular design means manufacturers can easily extend the range and power by adding motors, controllers and batteries, and having more flexibility. The intelligent system allows owners to control remotely, and different modes can be selected to adapt to different operating scenarios. A 'Docking' mode allows the throttle to be programmed to allow full throttle movement with reduced power input for enhanced low speed control. A 'Syn' mode is available for twin motor setups to match power input to both motors. For extra convenience, users who pair the H-100 with ePropulsion's HC-160-54 controller will be able to use DC power directly, eliminating the need to add a converter. The boating Internet of Things (IoT) system also enables owners to manage their fleet remotely and easily.
The launch of the H-100 is the next step in ePropulsion's ambition to pioneer new technologies that propel the transition to a premium green boating experience. The new product is suitable for various industries, including transportation, tourism, rescue and patrolling, as well as the cleaning, fishing and commercial markets. It can also be applied to autonomous boats.
"We are committed to providing customizable solutions to OEMs through adaptable product applications and are delighted to introduce our first electric inboard solution," said Danny Tao, CEO at ePropulsion. "ePropulsion offers a real-world electric alternative to traditional diesel power for boat manufacturers across a wide range of sectors. This latest addition to our product range is yet another example that electric power can deliver a cleaner, more sustainable boating experience without compromising on performance. We are proud to play our part in our industry's quest to tackle climate change and are looking forward to debuting the H-100 at the Electric & Hybrid Marine Expo in June."
Optimum performance, compact design
Equipped with pioneering permanent magnet motor technology, the H-100 gives its diesel counterparts a run for their money, achieving 17,701 lb/in maximum torque and delivering an impressive 96% efficiency, higher than the traditional 100kw AC asynchronous engine.
Surprisingly compact and lightweight, weighing in at just 418 lbs and requiring just 17- x 12-inches of space, the H-100 is around two-thirds lighter and 50% smaller than its diesel equivalent, offering flexibility in installation and maximizing payload and passenger space. A flat cable design increases the slot fill rate by 25% and improves power density.
Safe, reliable and durable
Safety and reliability are at the forefront of design, with features such as magnet reluctance incorporated into the motor design to reduce the counter electric potential. In addition, IP67 waterproofing, anti-corrosion, high accuracy position feedback, high torque density and closed-loop cooling combine so that the H-100 can handle even the most demanding working conditions, ensuring long life and minimal maintenance.
For further details about ePropulsion and its range, please visit www.epropulsion.com.