In late November 2021, Maritime Safety Queensland (MSQ) held its first Women in Maritime One Day Equipment Familiarisation course in Airlie Beach.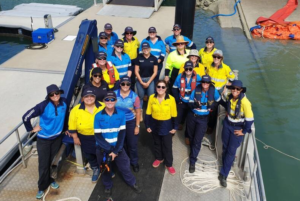 This course was delivered by Brad from MSQ's Maritime Emergency Management team.
Designed to teach and refresh operational staff, the course also provides staff who may perform duties within incident management teams with an understanding of the equipment, terminologies, limitations and timeframes required to deploy pollution response equipment.
Participants attended from across MSQ, Queensland Parks and Wildlife Service and the Great Barrier Reef Marine Park Authority.
They were taught how to operate, deploy, clean down and repack three types of boom, skimmers, generators and pumps.
While Brad was the trainer for the day, MSQ Marine Officers Toni, Tanya and Marita also played essential roles by using their field experience to guide those participants who have desk-bound day jobs through the various tasks.
'It was impressive to see their knowledge and skills in teaching others,' Brad said.
'It was a long, hot and humid day but this did not dampen anyone's enthusiasm. Every participant rolled up their sleeves and got involved.'
Feedback from the women who participated was extremely positive and discussions are already happening about next year's course.
If you would like to be part of next year's course, or to be involved in our Women in Maritime initiative in any way, please contact Ellie McKinney at or by telephone 07 3066 7098.
The Women in Maritime Committee was established in 2020.
Its purpose is to foster a meaningful, long-term commitment to developing careers for women in maritime in Queensland.
This will be achieved by creating diverse employment avenues for current and potential staff to take up opportunities to diversify their skills and experience.