Australian Motor Yacht builder, Maritimo has appointed Mr Derrick Nowak to spearhead their global dealer and market expansion.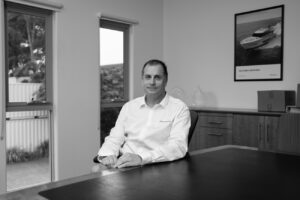 Appointed in early 2022, Nowak is charged with increasing Maritimo's penetration into the European market, as well developing a presence in select Middle East and Asian markets.
CEO Garth Corbitt said Maritimo already had a significant presence in the USA, New Zealand and throughout Australia and was now strategically strengthening other global markets.
He said the appointment of Nowak would enable the implementation of that expansion strategy.
"The goal is to identify dealer partners who share our vision and want to create and build a Maritimo family in their local areas," said Nowak.
"It's about the people, the experiences and the camaraderie that they can ignite in their respective countries and areas that will drive our success."
The strategy has already proved successful, with a new Asian dealer joining the network in March 2022.
Nowak is uniquely qualified for the position. Aside from his formal boat building, coatings and paint inspection qualifications, he has also worked for close to 30 years in the marine industry in the USA, Europe and Asia Pacific.
He held both technical and global sales management roles with coating giant, AkzoNobel, as well as senior roles in shipyards and client managed major yacht builders including, but not limited to, SilverYachts, Hinckley Yachts and Fleming Yachts.
Nowak's appointment came at the end of the most successful year in the company's 20-year history where seven new models were launched to market, the latest and largest being the M75 Flybridge Motor Yacht.
"I had been watching the rollout of Maritimo's new models and felt that they represented somewhat of a transition in the company's range and a very exciting period ahead," Nowak said.
"These new models are completely unique in their design and engineering, catering to long range coastal cruising, which makes them the ultimate vessel for some many boating destinations around the world."
The American born Nowak emigrated to Australia over 16 years ago making the Gold Coast his permanent home and as an avid boater you will find him out on the water most weekends.
About Maritimo
Maritimo is an Australian builder of long range luxury motor yachts for the world.
Formed within the Australian island continent and its vast coastline Maritimo has forged an international reputation. The company was founded by Australia's most awarded boat builder, Bill Barry-Cotter, this year celebrating 60 years of boat building excellence. Maritimo is built upon the principles of engineering excellence, build integrity, and design innovation. Hand built by the finest craftsmen, Maritimo offers luxury motor yachts of three distinctive Series'. The M-Series Flybridge, the S-Series Sedan and the X-Series Sport. Experience gained from the World Champion Maritimo Racing division, infuses ocean proven endurance and unparalleled abilities in the water into every Maritimo.