Australian Sailing Immediate Past President, Matt Allen AM, has been elected as a Vice President of the Australian Olympic Committee (AOC), winning election at their recent AGM.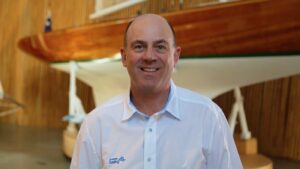 President of Australian Sailing from 2013 to 2019, Allen won the post alongside fellow incoming Vice President Evelyn Halls and new AOC President Ian Chesterman AM.
"Australian Sailing would like to congratulate Ian, Matt and Evelyn on their successful elections," said current Australian Sailing President Daniel Belcher.
"Matt is the first sailor to hold the position of Australian Olympic Committee Vice President, we are sure he will continue his fine work in advancing sport through that role."
Allen has been a member of the AOC Executive Board since 2017 and was a key player in leading Australian Sailing through its One Sailing governance reforms.
He takes up the position of AOC Vice President at a crucial time for Olympic sport in Australia, with the Paris 2024 Olympics just over two years away and Australia set to play host to the Games at Brisbane 2032.
"I am delighted that I can represent Olympic sport in my new role, and equally excited about the future of sport in this country," said Allen. "There is a truly unique opportunity to leverage the Brisbane Olympics to transform sport in Australia, which was highlighted by the recent announcement of the AOC's recent 10+10 submission to the Australian Government.
"The submission outlines how better investment in sport will enhance Australia's physical and mental health, build community cohesion as well as provide direct economic, productivity and volunteering benefits in the decade before and the decade after (10+10)."
Allen's election is the latest in a series of Australian sailors earning key appointments to senior international positions. Sarah Kenny (Vice President) and Daniel Belcher (Group L Council) were successful at last year's World Sailing elections, where they join Allen (Oceanic and Offshore Representative) on World Sailing Council.
Allen will serve in the post until at least the AOC AGM of 2025.