In late 2021 Maritime Safety Queensland (MSQ) installed, and has since tested and validated, a Meteorological-Oceanographic (Met-Ocean) sensor that is a game changer for skippers and marine pilots of superyachts navigating in and out of the Broadwater.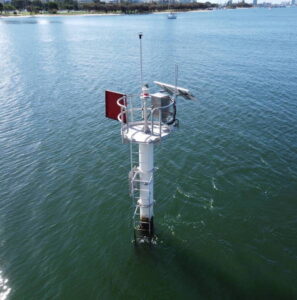 Superyachts are very large, luxury vessels that can sail the world's oceans. But their height and length make them vulnerable to forces exerted by water flow and wind direction when manoeuvring at low speeds and berthing.
Until now that has meant these high-profile, high-spending visitors looking to visit the Gold Coast have been limited to 65m in length.
The constraints of the Broadwater's channels and uncertainties about the accuracy and timeliness of information on tidal flows, water depth, wind speeds and barometric pressure made it too risky for larger vessels.
This is where MSQ's new Met-Ocean device, newly and inconspicuously installed on Beacon S16 near the Southport Yacht Club, is set to make a huge difference.
It has sensors that measure wind speed and direction, tide height and flow and barometric pressure to provide highly accurate information in real time to vessel skippers and MSQ's Vessel Traffic Services Centre located in Brisbane.
This is critical in providing superyacht captains and marine pilots with the information and confidence they need to navigate the Broadwater.
It roughly doubles the length of superyachts now able to safely manoeuvre in the estuary.
With the Southport Yacht Club's new dedicated superyacht berth able to accommodate vessels up to 130m in length, devising solutions to overcome the previous limitations was key to making this investment in infrastructure pay off.
Better still, access to the data obtained from the Met-Ocean device will be made publicly available via the Queensland Government's Open Data Portal, which means skippers of every type of vessel from tourist day trippers to ferries, charter boats and recreational boaties can be better informed.