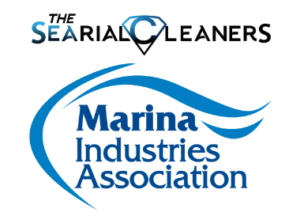 As it prepares for its premier industry event, Marinas22, the Marina Industries Association (MIA) announced a new and exciting Clean Tech Partnership with The Searial Cleaners. Owned by Poralu Marine, a company with environmental sustainability firmly entrenched it its company values, The Searial Cleaners is a range of complementary coastal waste management solutions designed to combat marine pollution and restore water quality and pristine shorelines.
In announcing the partnership, Suzanne Davies, MIA CEO explained, "MIA members view their role as local environmental custodians and actively make positive contributions in creating and maintaining a pristine environment. The Searial Cleaner Clean Tech Partnership is an important part of our environmental strategy and will complement our recent Environment Partnership with BMT. Together these partnerships will strengthen the MIA's environmental leadership and positioning of the industry as environmental stewards."
Appropriately marketed as the 'superheros' of waterways, the range include
 BeBot a 100% electric, beach screening robot that moves along a beach, sifting sand and collecting waste without damaging the fauna and flora.
Collect'Thor is easily fixed to a quay or floating pontoon and attracts and engulfs solid and liquid floating waste. Silent and very ergonomic, it can contain up to 100kg of waste.
InvisiBubble bubble barrier protects sea life by purifying water and deflecting debris and quarantining hydrocarbons for retrieval.
PixieDrone a remote controlled, or autonomous, on-water drone that collects waste.
Collec'Thor will be presented at during the Innovation Showcase at the Marinas22 Conference & Trade Exhibition next week.
Ekrem Reyhancioglu, Poralu Director, Asia-Pacific commented, "I am very happy and excited to present The Serial Cleaners at the Marina 22 Conference. With these latest innovations, Poralu Marine reinforces its commitment on having positive impact on the environment not only when building marinas, but also in providing eco-friendly solutions to protect our shorelines, harbours and marinas from marine pollution.
With the Clean-Tech Partnership, we are proud to be part of the MIA environmental strategy, sharing our expertise and working together toward increased awareness and leadership in fighting marine pollution issues."
MIA President Andrew Chapman commented, "We are looking forward to the next few years and our role in providing environmental leadership to our industry. Over 60 MIA members have embraced the voluntary Clean Marina accreditation and taken a pledge to eliminate single use plastics by 2025. The industry is committed to the environment, and it is great to have members who step up and want to drive this agenda further with us."
The MIA recently launched the BMT Environmental Best Practices induction course for new marina industry employees to ensure standards are understood by employees as they enter the industry. These new environmental partnerships with BMT and The Searial Cleaners are clear indications of the MIA's broader environmental strategy.
The MIA encourages its members and the broader industry, to support those businesses which provide additional support and commitment to the industry through their support of the MIA, by considering their partner products and services when contemplating supplier and purchasing decisions.
About the Marina Industries Association (MIA)
The MIA is the peak body representing the interests of club, recreational and commercial marinas, boatyards and industry suppliers in Australia & the wider Asia-Pacific region. Working closely with other marina associations around the world, the MIA works in support of developing sustainable marina industries through the delivery of strong leadership, industry guidance, education, accreditation and research. The MIA has over 300 corporate members and connects over 2,000 industry leaders and decision makers. 75% of members are marinas, clubs and boatyards and over 85% of larger marinas (over 100 berths) in Australia are members of the MIA.
About The Searial Cleaners & Poralu Marine
Owned by Poralu Marine, The Searial Cleaners is a range of innovative and complementary coastal waste management solutions designed to combat marine pollution and restore water quality and pristine shorelines. They have been developed for use in ports, marinas, waterways and on beaches. Poralu Marine is leading designer and constructor of aluminum marinas, committed to putting environmental sustainability at the heart of all its projects.
International Clean Marina & Fish Friendly
The International Clean Marina Program is an international, voluntary accreditation system for marinas, boatyards, and associated industry operators. The program assists operators to protect and enhance inland and coastal waterways by leading them through an independently assessed accreditation process which examines over 60 criteria across the operation, including compliance, facility management, emergency preparedness and boater education.
Fish Friendly is an add on accreditation available to all certified Clean Marinas and has been developed to inform marina operators on how to promote beneficial fish habitats. Currently there are 60 accredited Clean Marinas and 35 Fish Friendly marinas in Australia. The program continues to grow as marinas realise the risk management benefits of the program and the goodwill it generates with all stakeholders. The UK based Yacht Harbour Association (TYHA) recently adopted the program in the United Kingdom and will deliver it across Europe.
Elimination of Single Use Plastics Pledge
The MIA and its members share the view that they are the custodians of our waterways and that it is their collective responsibility to protect and improve waterways. By taking the Pledge, marinas are committing to removing single-use plastics from their business by 2025. The initiatives that marinas and associated businesses take in lowering their reliance on SUPs are shared by the MIA amongst the industry community.