New service provider Poseidon Sea Pilots (PSP) commenced pilotage services in Brisbane earlier this year, following an open competitive tender process. PSP replaced Brisbane Marine Pilots, who had been the contracted provider since 1988.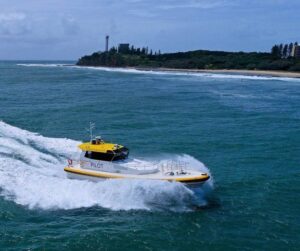 The port's pilotage providers work around the clock every day of the year to carry out more than 5000 piloted ship movements annually. PSP employs a mix of highly experienced pilots and trainees, and has operational bases at Mooloolaba and Pinkenba, with plans to add a third at Scarborough. Additionally, PSP and the Minjerribah Moorgumpin Elders-in-Council Aboriginal Corporation (MMEIC) have established an educational partnership with the aim to secure four maritime traineeships for First Nations descendants from the Quandamooka region.
PSP is part of the Australian Maritime Systems Group, based in Brisbane, which has more than 20 years of experience in the maritime service delivery and defence industry sectors.
Since taking over the contract, PSP had successfully completed 1457 piloted movements as at 30 April 2022, while dealing with disruptions and suspensions to shipping caused by Ex-Tropical Cyclone Seth, tsunami warnings associated with the eruption of the Hunga Tonga-Hunga Ha'apai volcano and then the floods of late February/early March.
Plans for expansion of PSP's vessel fleet are well underway, with two new pilot transfer vessels commissioned.