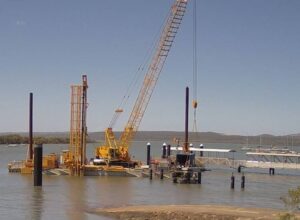 The $44.6 million project between the Department of Transport and Main Roads and Redland City Council will substantially improve the safety, comfort and quality of the experience for customers catching ferries to and from southern Moreton Bay islands and the mainland.
The project entered its second phase with the award of the stage 2 contract in December 2021—which includes the landside construction and coordinated marine works.
Russell Island
Works are in full swing at Russell Island, with piling continuing.
The offsite prefabrication works on the Russell Island pontoon have been completed and its float out to Russell Island occurred in late April 2022.
This event is a major milestone for the project. Work on the pontoon, gangways and landside works will continue, with completion of all the Russell Island works scheduled in late 2022 (weather permitting)
Macleay Island
Onsite works at Macleay Island commenced in late February 2022.
Translink ferry services are running as per the current timetable during construction, and customers travelling to and from the island will continue to board and alight ferries at the existing ferry terminal until the construction of the new terminal is complete.
The pontoon components have been transported to the Aluminium Marine yard at Thornlands where offsite fabrication work is underway to assemble and paint the pontoon.
The new Macleay Island ferry terminal will be built to the east of the existing ferry terminal.
Lamb and Karragarra islands
Fabrication work is underway on the Lamb Island ferry terminal pontoon.
Onsite works are planned to commence at Lamb Island in late-2022.
Work on the Karragarra Island ferry terminal pontoon will commence once the Lamb Island pontoon is moved to the Aluminium Marine yard for fit-out work.
For more information visit the project webpage or phone 13 74 68