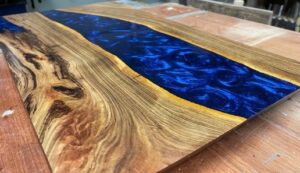 Capitalising on the craft boom which blossomed during pandemic lockdowns and realignment of work and priorities, woodworkers and hobbyists were quick to take up the creative challenge to showcase their pieces made with resin.
Carbatec and Eye Candy pigments ran a #MadeWithEyeCandy promotion inviting hobbyists to get creative with timber, resin and pigments and send in snaps of their pieces for the chance to win product. Answering the call were hundreds of home craftspeople all inspired by the same passion for hand-crafted objects.
Greg Wilkins is a carpenter by trade, running his own business 'All Carpentry Plus', and enjoys collecting odds and ends of timber, the odder the better, for his own projects.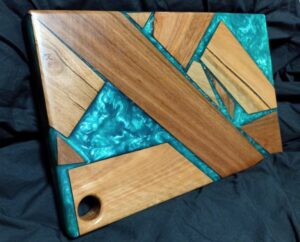 "For as long as I can remember, I have accumulated leftover bits of timber," he explains. "I have an issue with the amount of waste that seems to go unnoticed on job sites. I have always had an artistic side as I did all the arts at school and have always had a love for the stories a piece of timber can tell. I have become even more motivated to focus on doing something that I am passionate about."
"I am also interested in making items for the construction industry; one off entry doors, internal step treads and kitchen benches, so I am going to have a go at creating a sustainable business that is just a little different.
Through his side business, Reclaimed With Resin, Greg creates wooden pieces with resin inserts. He was recently among the standout entries in the Carbatec Eye Candy Pigment competition, his pieces recognised for their originality and creativity with remnants and off-cuts.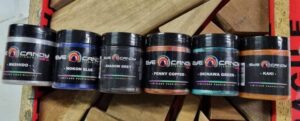 "I do not throw away any small pieces. From the off-cuts from the big table I have made two pizza boards with some resin. Also, from the large grazing board with the corners cut out I made a small grazing board using the client's favourite colours.
"My vision is to reduce building and timber waste. Using pieces with imperfections has opened a world of usable art for me. Every piece of timber tells a story and to capture that and enhance a single piece or multiple pieces is my little bit. I have no big machinery, I have no real workshop and not really into filming a YouTube type business. I just do it for the fulfilment and the end product which is practical and beautiful.
"I am doing very small pours. I feel like I have passed the experimental stage of resin and now understand the various parameters of climate, shed temperature, ambient temp, and working time with resins."
Jaxon Doyle, founder of JND Creations has used ATL Composites Perfect Cast epoxy resins for a number of projects over the years, including some "crazy deep" pours up to 7-inches in one cast.
He has been working with wood since 2017. With no formal qualifications, Jaxon was drawn to woodwork as a way of relaxing during many stressful years of his son undergoing medical treatment. He has always had an interest in video creation, so a YouTube channel was always on the cards, as he explains.
"The most enjoyable element of woodwork for me is creating something incredible from nothing. Taking raw, often dusty and even dirty materials and transforming them into bespoke pieces that people want to display in their homes is incredible!"
Resin art has been part of the equation since day one. "I find resin to be an incredible material that allows you to use pieces of timber that otherwise would become firewood. Large voids, rotted sections and imperfections are normally reasons to discard timber. I find myself only searching for timber like this, with crazy holes and insanely shaped voids.
"It's hard to say which projects are my favourite. I've completed well over 100 builds on my YouTube channel so far. When it comes to practicality, I would probably have to say the live edge super king bed base I built with pneumatic lifts is up there. In terms of resin projects, it's even harder to decide. The hardwood outfeed table with resin river drawer fronts was a showstopper. The variety of colours in that piece was amazing.
"The metal rose cast in one 7-inch-deep pour using ATL's Perfect Cast was a testing build that turned out great. It pushed the resin to its limits. I've used both the Deep Cast and Rigid Cast from ATL and find them to be great products. The consistency of the deep cast can only be compared to water, which is perfect for a deep cast resin and is what allows me the opportunity to cast such deep castings in one go."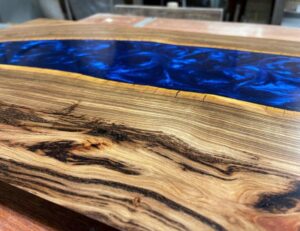 For his entry into the #MadeWithEyeCandy competition, he submitted several pieces.
"I often spend long amounts of time collaborating with clients to create truly one of a kind pieces and bring what they see in their head to life, while including my own creative flare. I do sell the items I create. If the piece is not a custom order, it can be found on my website and social media platforms."
Jeremy Fullerton, Senior Product Manager at Carbatec was thrilled with the response and the creativity demonstrated by the competition.
"We ran this competition because for us, it is always exciting to see new avenues for creativity evolve from more traditional past-times," he said.
"Resin pouring is a great example of this, so we worked with ATL to create and release two types of casting resin. When combined with colour pigments like Eye Candy, it provides a whole new world of opportunity to various artisans.
"You can see that displayed in Jax's table top, where the natural beauty of the timber is contrasted vividly against a river of intense colour – something not often seen in traditional woodwork. Jax makes the most of being able to work with the interaction of resin and pigment whilst curing, to create fantastic patterns.
"Greg has a different approach to his work with bold geometric patterns, made by reclaiming offcuts and recreating them into modern functional pieces, bound by resin and again, contrasted by colour. Both techniques provide unique individual outcomes and represent just a fraction of what can be created with resin and pigment. We're very happy to be supporting these growing creative activities."