Designed as a warm and water repellent top for active lifestyles around water, these new ZhikMotion™ hooded tops are perfect for those in-between conditions, before you may need a jacket or thicker mid-layer and can equally perform as a thermal base beneath other layers.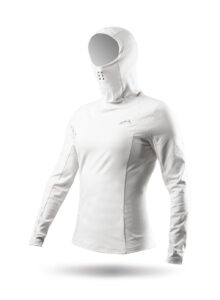 The range of womens and mens long sleeve hoodies are breathable, quick drying and have an environmentally conscious Zhik XWR™ fluorocarbon-free (PFC-free) durable water repellent coating that sheds rain droplets and splashes.
Made from ZhikMotion fabric, a 250 gsm recycled polyester fabric with integrated UPF50+ for ultra violet protection (AS 4399:2020), and a durable, abrasion resistant outer face with a soft peached feel creating warmth. The high-stretch interlock weave provides unrivalled flexibility and movement while being efficient at reducing wind chill.
These versatile Hooded Tops are shaped for movement and reduced bulk to work comfortably as part of a layering system and under waterproofs. Handy thumb loops enable easy dressing when using it under other layers.
The integrated balaclava style hood is form fitted and can be worn close around the face for full protection, or with the top of the hood pushed back so as to just protect the face and neck, preventing lip chaffing and cracking in high heat and cold conditions.
RRP (including VAT or tax except where stated)
ZhikMotion™ Hoodies in Anthracite or Platinum
Mens Size S – XXL
Womens Size XS – XL
GBP £69.95 , Euro € 79.95 (inc VAT)
US $ 99.99 (excl sales tax), CAN $124.95 (excl sales tax)
AUS $119.95, NZ $134.95 (inc GST)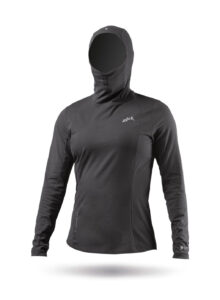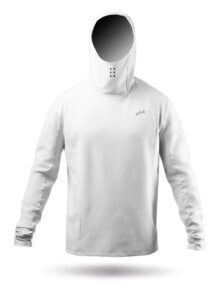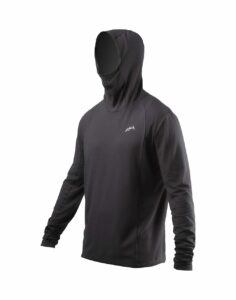 www.zhik.com
#MadeForWater
About Zhik:
Zhik is a dynamic Australian based apparel brand, at the forefront of innovation, pushing the boundaries in design and fabric technology for all sailors. Founded in 2003, Zhik's range of wetsuits and dinghy gear completely changed the design approach for performance clothing and have been rapidly adopted by sailors across the globe.
Since then Zhik has taken the same 'clean sheet' approach and is pushing strongly into the yachting apparel, from coastal cruising to extreme ocean range, and also into paddling and water sports.
Tested and proven, Zhik gear is the winning choice of numerous Olympic and World champions. Zhik is the official supplier to the Australian, New Zealand, Singapore and Danish Olympic teams, as well as many renowned, top level international sailors, America's Cup and Vendee teams.
Zhik are the Technical Clothing Partner for AkzoNobel Ocean Racing for The Ocean Race Europe 2021, the prelude to The Ocean Race 2022-23. Australian Skipper Chris Nicholson, who has participated in six editions of The Ocean Race said he was very excited to be working with Zhik again.
"The product innovations and new designs Zhik created for the last race were ground-breaking for the very wet Volvo Ocean 65 yachts."
"Just like competing at top international level you cannot stand still and having the latest clothing technology on board is all part of propelling our team to success."
Zhik technical clothing partnerships:
Official Supplier to the Australian Olympic Team 2021
Official Apparel Partner to Australian Sailing and the Australian Sailing Team 2021-24
Official Supplier to the Danish Olympic Team 2024
Technical Clothing Partner for AkzoNobel Ocean Racing for The Ocean Race Europe 2021
Official Technical Clothing Partner of IMOCA Paprec Arkéa Vendee Globe Challenge 2024
Official Technical Clothing Supplier to Alex Thomson Racing for the 2020 Vendee Globe Campaign
Team AkzoNobel and the winners, Dongfeng Race Team, in the Volvo Ocean Race 2017-18