Campaspe Shire Council in Victoria has welcomed $803,660 in Australian and State Government funding to support the redevelopment of the Victoria Park boat ramp and upstream retaining riverbank walls in Echuca.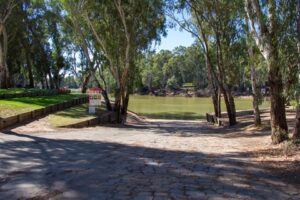 Deputy Mayor Colleen Gates said the funds, from the Australian Government's Recreational Fishing and Camping Facilities Program and the State Government's Better Boating Fund Structural Maintenance Grants Program, will see much needed works in the area.
"With the Echuca Moama second bridge project coming to an end, we can now look at redevelopment of the boat ramp," Cr Gates said.
"The project will upgrade the boat ramp in addition to the upstream retaining walls. The retaining walls are planned to reflect the style used in the adjacent Riverboat Dock area.
"The redevelopment of the boat ramp will not only benefit recreational boat users who live or visit Echuca and the Murray River, but also the Southern 80, the largest ski race event in the world held in February each year.
"We thank The Hon Melissa Horne, Minister for Fishing and Boating, for recently visiting our shire and for taking the time to see the boat ramp first hand.
"Our appreciation also extends to the Moama Water Sports Club, Rochester and District Angling Club and the Echuca Moama Accommodation Association who provided letters in support of our funding applications."
With funding now secured, Council can now move forward with this project. At this early stage, it is hoped construction would occur during the winter period in 2023, following the peak summer season.